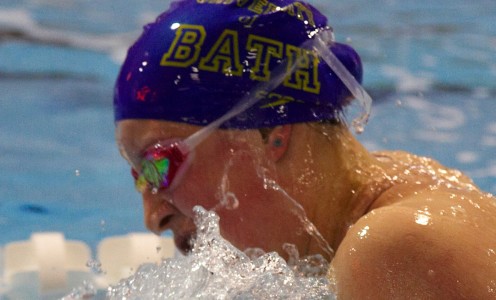 Stacey Tadd became the third University of Bath-based swimmer to achieve an Olympic qualifying standard at the British Championships when she took gold in the 200m breaststroke at the 2012 Aquatics Centre last night.
Tadd knew she had to set a personal best to achieve the Olympic qualifying standard – and she did it in style, holding off a strong challenge from Molly Renshaw to come home in 2:26.63.
"It was a great race and I'm over the moon," she said. "I'm absolutely thrilled with the time. I couldn't have hoped for much better really. Obviously Molly came back really, really fast. I didn't notice but I knew she would do that so I just had to hang on in there."
British Gas Bath Intensive Training Centre swimmer Calum Jarvis took gold in the 200m backstroke. His time of 1:59.48 put him sixth on the all-time GB list but was just outside the Olympic qualifying standard.
Jarvis and fellow Bath ITC swimmer Chris Walker-Hebborn, who took bronze, must now battle it out at the British Gas ASA National Championships in June to see if they can secure their spots in London.
"That's my first British title," said Jarvis. "It's a shame I just missed out on the time but I'm really happy with that. I've come away with a PB and that's all I can ask for.
"My coach has had a lot of confidence in my training. I've had such a great plan and great support. They all knew I could do it so it was great to come through and win."
On Wednesday night Andrew Willis and Michael Jamieson achieved the Olympic qualification standard for the 200m breaststroke.
For further information please contact the Team Bath press office at Matchtight Ltd on 01225 383518 or by email at press@matchtight.co.uk
You can also find out more about Team Bath at www.teambath.com , follow us on Facebook at www.facebook.com/teambath or on Twitter at https://twitter.com/#!/teambath
The University of Bath is The Sunday Times University of the Year 2011/12.