Sports People of Bath,
Welcome to your latest action packed weekly sporting roundup. Apologies for the lack of e-mail last week, as you may have noticed I was rather busy, thanks to everyone who voted in the elections!
The last two weeks have seen us fall to fourth in the overall BUCS standings, just 15 points behind Leeds Met.
All is to play for at the BUCS Championships in Sheffield over the next week with Futsal, Netball, Tennis, Badminton, Fencing, Volleyball, Karate and Judo in action.
It is likely the next week will decide our final BUCS standing at the end of the year.
Winning the unique accolade of "Team of the Fortnight" was the American Football team with a 27-6 victory in the play-offs over last year's national champions Portsmouth.
The Netball team are still carrying great momentum into their Championship final match against Leeds Met this Wednesday following a 95-22 demolition of Cardiff.
The Rugby team were successful in winning Premier South following a 17-0 victory over the University of Bristol, claiming their first title in recent memory.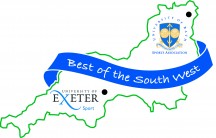 Remember, you can see the Rugby 1st XV take on one of only two sides to beat them this year, Exeter, at Varsity on Saturday 24 March at The Rec. This is one of six sports in action.
All events on the day are free entry, please see the Varsity 2012 Facebook events page for more information.
Limited edition Varsity 2012 t-shirts are now on sale from the BathStudent.com Sports homepage for £5. You will also receive a priority ticket for the Rugby match for free with your t-shirt.
Boxes are also still available for the Rugby at £250 including a buffet meal for 20 please call into the Activities Office to book yours.
With it being such a pivotal week for so many of our sports it's time to pull out a big gun for one of the quotes, Michael Jordan:
"You have to expect things of yourself before you can do them."
Play Proud,
Chris Clements
VP Sport
View all the past weekly reports at the Students British Universities and Colleges Sport web page.