The Department of Sports Development & Recreation continues to support the IDEALS Zambia Project in conjunction with the Wallace Group Universities and UK Sport.
The project is now in its seventh summer of delivery with student recruitment for summer 2013 now in progress.
IDEALS induction event
Over 60 IDEALS volunteers and staff across the country came together for this years three days induction event hosted by Durham University, the group were also joined by Joanna Knight from UK Sport, and four guest from our partner NGO's in Zambia, George Kakomwe and Tilabilenji Sara Mvunga representing Sport in Action and Gregory Shikombelo and Susan Banda from EduSport.
The orientation event is aimed at preparing both staff and students for their time in Zambia, gaining cultural knowledge, learning traditional Zambian games, theory sessions surrounding HIV/ Aid awareness & child protection and finally being informed of their individual placement site where they will spend six weeks coaching.
First task of the day was to meet the IDEALS students from other Universities who are travelling in the same group and participant in an ice-breaker session led by their staff members.
Students were then tasked with coming up with a 'Group slogan'.
This slogan would provide a common thread for the delivery of their six week placement and form the basis of each groups 'Wallace Tournament' at the end of the six weeks.
Group 1 discussed potential ideas. The final slogan chosen was 'live, laugh, learn.'
Lasts years Group 1 students at the Wallace Tournament decided on – 'Play together, educate forever'
The afternoon was spent in a more familiar setting than the conference room with a practical session at Maiden Castle.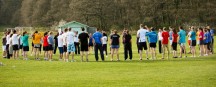 English to Zambia Games – due to mass participation of children in community sports some sessions are likely to reach 60 children at one time, students were prepared with some 'old childhood games such as; what's the time Mr Wolf, British bulldogs, horse & jockey and mamba!
For many the highlight of the induction is learning the traditional Zambian games. Led by Tila & Susan a two hour outdoor session took place with much confusion and laughter from the Bath contingent.
These traditional games are delivered within school PE lessons where resources and equipment is minimal. The games are also used to incorporate important life skills messages and HIV/Aids awareness.
The event ended with the IDEALS conference dinner where newly formed friends shared their excitement for the summer months ahead's and the realisation that some students would depart on a life changing experience in less than three months.
There was a quick introduction to Nyanja, one of over 70 spoken languages in Zambia, a talk from each of charities formed on the back of the IDEALS project by former students, Friend of Edusport & Perfect Day Foundation and finally the most anticipated part of the induction where students found out their placement sites.
University of Bath students placement sites:
Group 1 – Emily Nicholls, a split placement between Mulani & Ngombe & Ibby placed at Fountain of Hope.
Group 3 – Tom Browne placed at Kalingalinga & Steph Gubas on a split placement between Mulani and Ngombe.
Our Bath Spa media students Megan Kelland and film lecture Rob Brown will visit, write news articles, photograph and film at all placement site.
2nd Annual Ball
On Saturday 31 March Durham University & Perfect Day Foundation hosted the 2nd Annual Ball with all proceeds of the event going towards a scholarship fund to send Steven, a peer leader from Fountain of Hope, a refuge for street children, to the University of Zambia to study medicine and reach his lifelong ambition of becoming a doctor.
Former Bath IDEALS students, Steph, Emily, Tom and Megan and alumni from 2010, Joe Dale and Grace McCatty showed their support for Steven's fund.
Download the full report with photos:
Zambia IDEALS Project update 4 [PDF]
Background information
International Development Through Excellence and Leadership in Sport or IDEALS is a UK Sport initiative which aims to establish a high quality, progressive and co-ordinated sports leadership development exchange programme for young people aged 20-35 between the  UK and partner countries.
In 2011 the Wallace Group (Universities of Bath, Durham, Loughborough, Nothumbria, St Andrews, Stirling and UWIC) sent over 30 students and six staff members on professionals placements working with two Non Government Organisations based in Lusaka, Zambia, Sport in Action and Edusport as part of the IDEALS programme.