Athletes who train at Team Bath have an impressive track record of winning medals on the world's biggest sporting stage.
They have returned to their University of Bath training base proudly clutching medals they won at Olympic Games, Olympic Winter Games and Paralympic Games across a range of sports.
Swimmer Paul Palmer set the ball rolling in 1996 when he struck silver in the 400m freestyle at the Atlanta Olympic Games.
Palmer had moved to the then newly opened 50m pool at the University of Bath, along with coach Ian Turner, to give himself the best possible chance of winning a medal at Atlanta.
And the move paid dividends as he won Olympic silver, followed by a plethora of medals at World and European Championships. His Atlanta medal provided a silver lining for the GB team, which only mustered one gold, eight silvers and six bronzes at the Olympics.
"I find it hard to describe the emotion," he said after winning his Olympic medal. "It was a beautiful feeling and one I will never forget."
Four years later saw the first of a long line of Olympic successes achieved by British modern pentathletes training at the University of Bath.
The women's modern pentathlon made its Olympic debut at Sydney 2000 and Steph Cook became the first woman pentathlete to become Olympic champion, while Kate Allenby won bronze.
And there was further success at the Games with judo player Kate Howey picking up a well-earned silver medal on the judo mat ­ adding to the bronze she had won at Barcelona.
Howey's performances saw her handed the honour of carrying the Union Flag at the head of the British team at the Opening Ceremony to the 2004 Olympic Games in Athens ­ Howey's fourth successive Games. She was chosen in a poll of GB team members.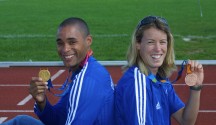 And there was further cause for celebration in Bath when Bath Bullet Jason Gardener led off the British 4x100m relay quartet that struck gold in Athens.
The British quartet beat hot favourites, the USA, into second place by just 1/100th of a second in a pulsating final to secure the Britain's Olympic athletics relay gold since 1912.
Georgina Harland continued the impressive performances by Britain's modern pentathletes when she shot, fenced, swam, rode and ran her way to Olympic bronze.
Four years later Heather Fell, who did part of her training at the Pentathlon GB High Performance Centre at the University of Bath, brought silver home from the Beijing Olympic Games.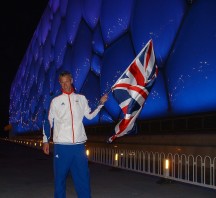 And in another landmark, University of Bath Swimming Club member Mark Foster started his fifth Olympic Games by carrying the Union Flag into the impressive Birds' Nest Stadium in Beijing.
Foster, who was the first British swimmer to carry the Union Flag at an Opening Ceremony since 1964, said: "Some of the most wonderful names in British sport have been Olympic flag-bearers. I was blown away when I was told. It was a big surprise and a huge honour."
British teams at the last three Olympic Winter Games have prospered from the achievements of British Skeleton's University of Bath-based athletes.
Alex Coomber took bronze as the women's skeleton made its Olympic debut at Salt Lake City in 2002.  Shelley Rudman followed that up with silver in Turin four years later, and Amy Williams won a magnificent gold medal at the Vancouver Olympic Winter Games in 2010.  Williams' gold was Team GB's only medal of the Games and Britain's first individual Olympic Winter Games gold for 30 years.
She became first British woman to strike gold at an Olympic Winter Games individual competition for 58 years.
"It was absolutely brilliant to win gold, it was out of this world," she said shortly after her remarkable victory. "It was amazing to do it for my country and I enjoyed every minute."
And Bath-based athletes excelled on home turf, when the Olympic and Paralympic Games came to London in 2012.
A brace of silver medals came back to Bath from the Olympics. The first was won by Olympic debutant Michael Jamieson, who combines studying Sports Performance at the University with training at the British Swimming Intensive Training Centre.
He took silver in the 200m breaststroke final in a British record time. Training partner and Chemical Engineering student Andrew Willis also reached the final, coming home in eighth.
And Samantha Murray continued Britain's remarkable modern pentathlon heritage. She crossed the finish line in second place at Greenwich Park on the final day of the London 2012 Olympics to win Britain's 65th and last medal of the Olympic Games. Her medal means British pentathletes have medalled at each Games since the sport for women joined the Olympic programme at Sydney 2000.
The achievements of University of Bath-based athletes at Olympic competitions have been impressive ­ but those achieved by Paralympic athletes have been every bit as inspirational.
Swimmer Sascha Kindred won four medals, including two golds, at the Sydney 2000 Paralympic Games. As well as golds in the SM6 200m individual medley and SB7 100m breaststroke, he also won silver and bronze relay medals.
Matt Walker won a relay gold in the pool as well an individual silver in the S7 50m freestyle and a bronze in the SB7 100m breaststroke. Nyree Lewis (now Kindred) won silver in the S6 100m backstroke and bronzes in the SB5 100m breaststroke and the 4x50m medley relay.
And Fiona Neale won individual silver for Great Britain in the S8 100m backstroke. That meant University of Bath-based swimmers returned home with 11 medals, including three golds, from the Sydney 2000 Paralympic Games.
Another swimmer, Anthony Stephens, produced a similarly impressive series of performances at the Athens Paralympics four years later. Stephens netted a silver medal in the S5 200m freestyle, as well as bronzes in the S5 50m freestyle, the S5 100m freestyle and the 4x50m freestyle relay.
Ben Rushgrove became the first University of Bath-based athlete to win a Paralympic Games medal on the athletics track. Rushgrove, who was a Sports Performance student at the University at the time, won silver in the T36 100m in the Birds' Nest Stadium in Beijing.
And Rushgrove made it two medals from two Paralympic Games when he won bronze, this time in the T36 200m, in the Olympic Stadium at L
ondon 2012.
It was training partner Paul Blake who came home with the biggest medal haul at his first Paralympic Games. Blake started his campaign with silver in the T36 400m, clocking a personal best in the final.
He followed that up with silver in the T36 800m to make it two medals from two events at the Games.
And there was a fourth medal on the track for Bath-based athletes, all of whom are coached by Rob Ellchuk. This time it went to Katrina Hart, who helped the GB women's T35-38 4x100m relay quartet to bronze.
Swimmer Liz Johnson also finished in the medals, winning a third medal at back-to-back Paralympic Games. This time it was a bronze in the SB6 100m breaststroke.
The successes achieved by University of Bath-based athletes at recent Games has been impressive – and let's hope there will be more to come at many future Games.
Keep up-to-date with the latest local Olympic & Paralympic news on our dedicated Olympic & Paralympic web pages.