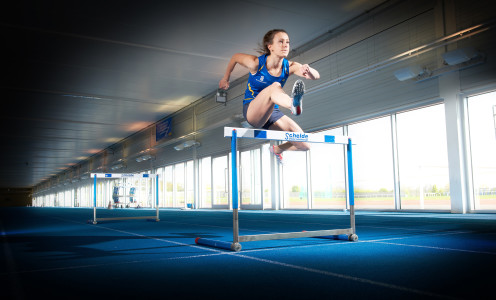 More than 50 University of Bath students will get the chance of a lifetime when they compete in the British Universities and Colleges Sport (BUCS) Outdoor Athletics Championships in London, the showcase event in the universities' national outdoor athletics season.
BUCS and the London Organising Committee of the Olympic Games (LOCOG) have been working together over the past two years to establish the BUCS Outdoor Athletics Championships as a test event for the London 2012 Olympic Games. Now, as part of the London Prepares Series, the Olympic Stadium will welcome student athletes from across the UK to take part in the first competition to ever be held in this new stadium.
The annual event involves over 1,200 male and female students competing across 40 events over four days, from Friday 4 May to Monday 7 May.
The championships mark the end of Universities Week, a national campaign to increase public awareness of the wide and varied role the UK's universities play, focusing this year on the 2012 Olympic and Paralympic Games.
Student sport at Bath is very strong. We have over 1,500 students who regularly compete in sport competitions run by BUCS, totalling an impressive ten per cent of our students.
Our Students' Union Sports Association supports student athletes to compete in BUCS competitions and will be sending a strong contingent to the event. The Bath students will be competing in all but one of the 40 events, making history and achieving the dream of competing in an Olympic Stadium.
"This represents a fantastic opportunity to showcase university sport on the greatest stage on earth," said Chris Clements, Students' Union Vice President Sport. "There can be no doubt it will be a great day for students and spectators and a once in a life time experience for our students which will inspire them to continue to work and train hard.
"Our students have historically achieved fantastic results at this event and it we hope there will be many more podium finishes this year."
Megan Southwart, is a 19-year old Sports Performance student from Kent who will be competing in the 400m hurdles. "The championships should be good fun and I'm really looking forward to it being at the Olympic Stadium," she said. "I came sixth last year and this year I'm aiming for a medal.
"Being at the stadium will definitely inspire a good performance but it'll also be very intimidating. Quite a few of my friends from training are coming to support me and lots of my family – they're really excited because of the venue and there's definitely more coming along this year."
To support the athletes and mark this extraordinary occasion, the Sports Association has organised a supporters' bus and many staffand students will be taking up the opportunity to be involved, to see the Olympic Stadium in action and cheer along our athletes.