There aren't that many athletes who can claim four back-to-back World Championship titles to their name ­ but University of Bath graduate Alexandra Rickham is one of them.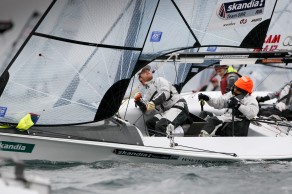 Alexandra and her sailing partner Niki Birrell, have dominated the SKUD 18 keelboat sailing class in the last four years, wining International Association for Disabled Sailing (IFDS) World Championships titles in 2009, 2010, 2011 and 2012.
Alexandra, who graduated from the University with a degree in Natural Sciences in 2004, was among the first athletes to be selected for the ParalympicsGB team for London 2012, when the sailing team was announced in August last year.
2012 will be her second Paralympic Games, and although the pair were the highest placed British sailing crew at the Beijing 2008 Games, finishing fifth, Alexandra doesn't have particularly happy memories of the competition.
The SKUD 18 class made its Paralympic Games debut in Beijing and Alexandra and Nikki had only teamed up a matter of months before the Games.
"I went to Beijing with higher hopes and I wouldn't really say I enjoyed the experience," she said. "We tried to cram way too much into the build-up to the Games, but I don't think I really realised we were at the Games until the closing ceremony.
"I was a novice last time. I jumped a lot of steps and I still had a lot to learn," she said.
But time can be a great healer, and four years later the pair have done what every sportsman and woman tries to achieve ­ to win when it really counts.
"We've done the hard work now.  We're going through the basics and cleaning things up now. We're better prepared and more confident," said Alexandra. "We've grown a lot as a team and we know a lot more about what to expect."
Of course, winning four successive World Championships can increase the weight of expectation on an athlete.
"We will go there under pressure, but everybody in the top section of the fleet is under pressure and in some ways it will be nice to go there under pressure," she said. "We know we will be one of the favourites and hopefully that will put pressure on some of the other teams. It's hard being number one, but it's also difficult being in the chasing pack."
"In the last year I've been a lot more relaxed going to events and I've enjoyed them a lot more. I'm going to go there to enjoy the Games and if we're relaxed we'll get the result we want.
"It will be really exciting to compete at a home Games," added Alexandra. "People in Britain are so into sport and I think to have the Games here will be just amazing, especially as the Paralympic Games are coming home. I don't think any country has as good an appreciation of the Paralympic Games as the UK."
Alexandra has fond memories of her time at the University of Bath, although her extra curricular activities were devoted to RAG rather than sport at the time. She said: "I loved being at the University of Bath. I had a great time."
Alexandra became disabled following a diving accident in Jamaica in 1995.
After graduating form the University of Bath with a BSc in Natural Sciences in 2004, she completed an MSc in Environmental Technology at Imperial College in 2006.
During her time at Imperial she trained as a helm as a member of the Paralympic Development squad an in November 2007 she joined forces with Niki ahead of the Paralympic Games.
The SKUD 18 competition at the London 2012 Paralympic Games takes place at Weymouth and Portland. It is scheduled to start on Saturday 1 September and reach its climax on Thursday 6 September.
You can find out more about Alexandra and Niki on their website >