Sport / Event: Rowing (womens pair, with Heather Stanning)
Date and Place of Birth: 17 June 1986, Truro, UK
Height: 178cm
Weight: 70kg
Biography:
All-rounder Helen grew up in Penzance in a sporty family and from an early age was involved in sport.
At the age of 14 she was playing hockey for the England satellite squad, captaining her county team and also playing tennis and swimming for her county.
After being selected to run for England, Helen continued her love of sport by commencing a degree in Sport and Exercise science at the University of Wales.
Helen started rowing in 2008 through the UK Talent Team (UK Sport and English Institute of Sport) Sporting Giants scheme and was placed on to the GB Rowing Team's Start programme, sponsored by Siemens, in Bath and coached by GB Rowing"s Paul Stannard.
Prior to this she had absolutely no experience with rowing.
Rowing world championship medallists Helen Glover and Victoria Thornley became the first athletes discovered through Talent ID programme Sporting Giants to be selected to represent Team GB at the London 2012 Olympics.
Launched by five-time Olympic rowing champion Sir Steve Redgrave in 2007, the first UK Sport and English Institute of Sport (EIS) Talent ID campaign sought tall and talented athletes with the potential to compete at the 2012 Olympic Games in the sports of rowing, handball and volleyball.
Glover and Thornley, neither of whom had set foot in a rowing boat prior to Sporting Giants, were confirmed as members of the 48-strong rowing squad by the British Olympic Association in Windsor.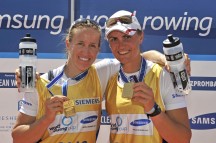 Both World Championship and World Cup level medals won over the past four years; Glover and crewmate Heather Stanning claimed gold medals at both of the World Cup events in 2012.
Speaking about the Sporting Giants process, former hockey player Helen Glover said: "They tested 4,500 of us in groups of 200 at a time. I remember sitting in a room in Bisham Abbey and someone saying: 'A gold medallist in 2012 could be sat in this room. Look around you.' I thought: 'Right, I'm going to make that me.' It was quite surreal."
University of Bath graduate Heather Stanning and her rowing partner Helen Glover made a piece of history on Wednesday 1 August 2012, by becoming Britain's first women Olympic rowing gold medallists.
And it was a double success for the British pair, who also won Team GB's first gold medal of the London 2012 Olympics.
Heather and Helen learned to row through the GB Rowing Team's Start programme at the University of Bath.
They showed their intentions in the heats by setting an Olympic record for the women's pair.
And they went out hard from the start, setting a blistering pace that left the other five boats in the final trailing in their wake.  The pair led from start to finish, taking gold in 7:27.13 – just over two and a half seconds clear of the Australians in front of a 26,000-strong crowd at Eton Dorney that included Duke of Cambridge, Prince Harry and the Princess Royal.
Staff, students and facilities users at the University of Bath cheered the pair on in front of the video wall at the Sports Training Village – just metres away from the gym where the pair trained.
Rowers Heather Stanning, Helen Glover and Dave Smith were made MBEs in the New Year's Honours list.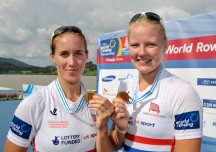 Olympic rowing gold medallist Helen Glover and her partner Polly Swann completed a hat-trick of 2013 World Cup gold titles when they won in Switzerland on Sunday 14 July 2013.
The British duo struck gold in the women's pair in Lucerne in the face of strong opposition from New Zealand and the USA.
Their victory in Lucerne followed on from earlier successes this year in Sydney and Eton Dorney.
Glover then added a World Championship gold to the Olympic rowing title she won at London 2012.
She won gold in the women's pair partnering Polly Swann at the World Championships on Lake Tangeum in Korea on Saturday 31 August 2013.
It was Glover's first World Championship gold following a pair of silvers in 2010 and 2011 with University of Bath Sports Technology graduate Heather Stanning, with whom also struck gold in the women's pair at London 2012. The pair became the first GB women rowers to win Olympic gold.
Glover and Swann won from the front to take gold from Romania in 7:22.82 in Korea.
At the 2016 Olympic Games in Rio de Janeiro Heather and Helen again demonstrated their incredible talent on the world stage.
The pair's successful defence of their Olympic gold contributed to Great Britain's highest ever medal tally at a Games.
Glover adds World title to Olympic crown
It's gold and a piece of history for Heather and Helen
Career highlights:
Gold – women's pair – Olympic Games – Rio de Janeiro 2016
Gold – women's pair – Britain's first women Olympic rowing gold medallists – London 2012
Gold – women's pair – World Championships,  Lake Tangeum in Korea – August 2013
GB Rowing Team Profile: