Paralympic athlete Paul Blake, coached by Rob Ellchuk, made history at the London 2012 Paralympic athletics test event on Tuesday 8 May 2012 when he clocked a new World Record in the T36 1500m of 4:34.42.
Read the full story at:
UKA Paralympic World Record test event – Whitehead, Cockroft and Blake celebrate new world records
Paul is an outstanding Paralympic middle-distance runner who is currently a world champion and a world record holder.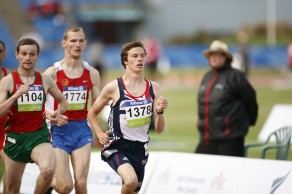 At his first World Championships he claimed the gold medal in the 400m and was a double silver medallist over 800m and 1500m at the IPC Athletics World Championships in New Zealand in January 2011.
At the UKA Aviva British Grand Prix at Crystal Palace (London) August 2011, he recorded a new World Record in the T36 800 metres with a time of 2:08:02.
He received an honorary blues award in recognition of his sporting achievements at the World Championships.