Katrina Hart struck double gold as University of Bath-based athletes collected five medals at the BT Paralympic World Cup competition in Manchester.
Hart, a reigning Commonwealth and World Champion, completed a sprint double in the T37 100m and 200m.
The 23-year-old University of Bath Sports Performance graduate looked in impressive form as she took the 100m title in 14.43 seconds and followed that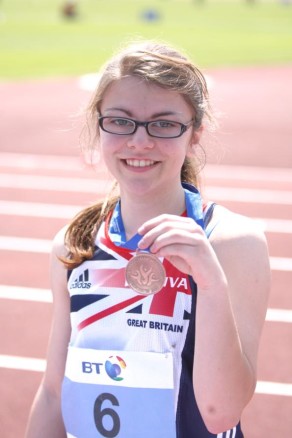 up with 30.14 to take gold over 200m, running against quality fields and into a strong headwind on both occasions.
"The fans were really good out there and they helped a lot, but it was windy," said Hart. "There were kids shouting for me which was really nice – this event gets better and better and better each year and it's brilliant to have all the school kids here because they're the future."
There was also a bronze medal for 15-year-old Sophie Kamish (left), competing at her first senior international competition. She finished fourth in the T42/43/44 100m and then followed it up by taking two seconds off her personal best to take bronze in the 200m.
She also had the distinction of becoming the first athlete identified through the Playground to Podium initiative to achieve international honours.
And there was a silver medal for Ben Rushgrove in the T36 200m and a bronze in the 100m. He won silver over the shorter distance at the Beijing 2008 Paralympic Games.
The trio are coached at the University of Bath by Rob Ellchuk, who also coaches Paul Blake, who earlier this month set a world record in the T36 1500m.
For further information please contact the Team Bath press office at Matchtight Ltd on 01225 383518 or by email at press@matchtight.co.uk
You can also find out more about Team Bath at www.teambath.com , follow us on Facebook at www.facebook.com/teambath or on Twitter at https://twitter.com/#!/teambath
The University of Bath is The Sunday Times University of the Year 2011/12.
Main photo of Sophie Kamish – courtesy Job King, England Athletics