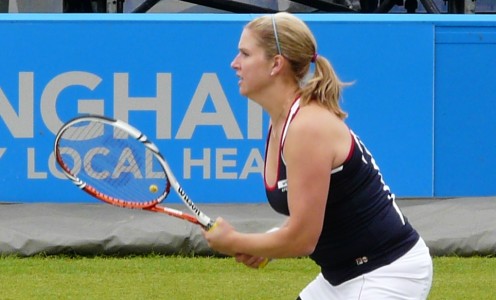 Team Bath's Melanie South, fresh from her close encounter with former World No.1 Jelena Jankovic in Birmingham this week, has been awarded a wildcard for the Wimbledon qualifying competition.
South, who took Jankovic to a tie-break second set at the Aegon Edgbaston Classic, before going down 1-6, 6-7, will be joined on a potential journey to the world-famous courts of the All-England Club by Team Bath team-mate Samantha Murray.
The duo will compete next week for a place in the Championships main draw which will be made on Thursday 22nd June with the seeds for the illustrious Championships due to be announced two days before.
Team Bath-MCTA Head Coach Dave Sammel knows that South's showing against Jankoovic should boost his player's confidence as Wimbledon approaches.  "Mel has shown that she could compete with the big-named players and should take confidence from the experience", he said of her Edgbaston performance.
Murray, meanwhile, has joined the Team Bath programme after a spell in America.  She gave a good account of herself at Edgbaston despite a 4-6, 4-6 first-round defeat.  "Sam could not capitalise on an early break and chances come round less at the highest tour level", said Team Bath Director of Tennis, Barry Scollo.
In a strong week for Team Bath's tennis women Lisa Whybourn beat world-ranked (138) Claire Feurstein of France in the $50,000 Challenger tourmament in Nottingham.  Whybourn had to save five matchpoints en route to victory 7-6,0-6,7-6.  This result and her appearance in a final in Khazakstan, a week previously, means that Whybourn could move into the World's top 400 from a previous ranking of 700th.
For information on tennis at Team Bath-MCTA visit: http://www.teambath.com/sport/tennis/
For further information please contact the Team Bath press office at Matchtight Ltd on 01225 383518 or by email at press@matchtight.co.uk
You can also find out more about Team Bath at www.teambath.com, follow us on Facebook at www.facebook.com/teambath or on Twitter at https://twitter.com/teambath
The University of Bath is The Sunday Times University of the Year 2011/12.