University of Bath based athletes across a range of sports face a big week of action as they aim to pursue their Olympic dreams.
Swimmers based at Team Bath have their next opportunity to qualify berths on the GB Olympic team when they compete at the British Gas ASA Nationals in Sheffield. The Nationals get underway tomorrow (Wednesday) and conclude on Saturday (23 June).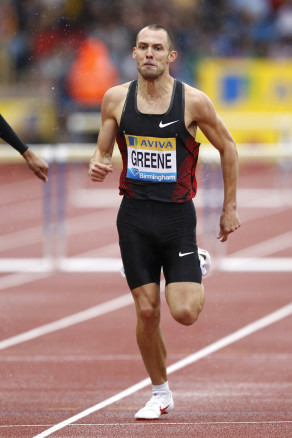 Some 37 GB athletes – including the Bath-based trio of Michael Jamieson, Stacey Tadd and Andrew Willis – have already been selected for the GB team for the London 2012 Olympic Games.
More aim to follow at the ASA Nationals. They include backstrokers Chris Walker-Hebborn and Calum Jarvis, as well as Anne Bochmann, a 2010 Commonwealth Games swimmer who has recently transferred to train at British Swimming's Bath Intensive Training Centre.
University of Bath-based track and field athletes will also be under the spotlight when they compete at the Aviva Trials in Birmingham this weekend.
More than 750 of the country's top athletes will go head to head at the trials in the battle for selection for the London 2012 Olympic Games.
Bath athletes in action will include Dai Greene (pictured), 400m hurdles world champion, and his training partner Jack Green, both coached by Malcolm Arnold, UK Athletics National Event Coach Hurdles.  Eilidh Child goes in the women's 400m hurdles – earlier this month she set the Olympic A qualifying standard as she broke her own Scottish record running in Geneva.
Lawrence Clarke, Andrew Pozzi and William Sharman, all coached by Malcolm Arnold, are among the Bath-based athletes contesting the 110m hurdles.  University of Bath student Danny Talbot, coached by Dan Cossins, runs the 100m and 200m. The trials run from Friday (22 June) through to Sunday.
And the Bath-based GB women's beach volleyball squad could take a step closer to qualifying two women's pairs for London 2012 this weekend. The two pairs of Shauna Mullin & Zara Dampney, along with Denise Johns & Lucy Boulton, represent Great Britain in the the CEV Continental Cup Final in Moscow this weekend.
If Britain win the competition they would secure a second women's berth at London 2012 in addition to the host nation place. If they finish second or third they would have a further opportunity to secure a second spot at the Olympic qualification competition in Sardinia later in the month.
The CEV Continental Cup Final begins on Friday and concludes on Sunday. Great Britain get their campaign underway with a quarter-final against the Netherlands. The University of Bath is the GB team's UK training base.
For further information please contact the Team Bath press office at Matchtight Ltd on 01225 383518 or by email at press@matchtight.co.uk
You can also find out more about Team Bath at www.teambath.com , follow us on Facebook at www.facebook.com/teambath or on Twitter at https://twitter.com/#!/teambath
The University of Bath is The Sunday Times University of the Year 2011/12.