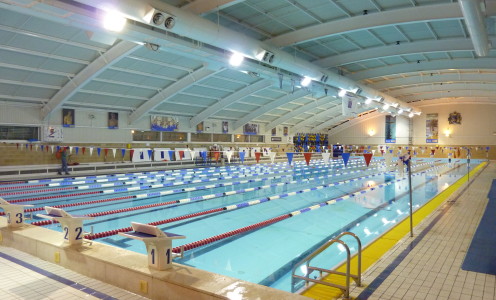 Team Bath is delighted to be hosting the final preparations for a number of nations in the exciting build-up to the Olympic and Paralympic Games this summer – including over 100 members of the British Paralympic team who will be training on site in late August just before they move to London to compete at the Games.
We hope that everyone in Bath, and particularly at the University, can feel a sense of pride in the role that our city is playing in this inspirational event and will be able to help us in being good hosts. This is a role that will give us all profile and potentially drive new business in the future for our community.
Inevitably with the large number of athletes on site we need to make some changes to the normal operation of the facilities.  This will happen most notably in our swimming pool which is in high demand.
All our community clubs and regular training squads will be able to access the pool area throughout the Games build-up period but we need to temporarily suspend our swim-fit provision from 1-24 July inclusive.
Every effort has been made to make direct contact with individual members of the Sports Training Village to make them aware of these changes but if you would like further information, please feel free to contact the Membership team on (01225) 383597.
We understand that this will disappoint some of our more regular recreational swimmers but ask you to bear with us for this period.
We will also have some additional rules on the pool deck for those clubs who are using the facility to keep the environment clean and safe.  We will be asking swimmers to leave their bags in the swimming changing rooms or the Referees' changing room at the back of the Swim Office rather than take them on pool-side and we will provide drinking water on the poolside as swimmers will not be able to take drinks or food onto pool-side.
The pool-side spectator area will be closed at this time and there will be no general thoroughfare for STV users through the pool area during this time.
As you would expect, with so many new faces in our environment we will also be enhancing our entry procedures. All customers /user groups will be requested to show some kind of photo-identification (e.g. driving licence, University staff card etc) on arrival at the Sports Training Village and we may also have other random checks.
Large groups, such as schools, will be notified individually about any requirements.
Swim-fit suspension and additional STV entry requirements
Swim fit – July 1 – July 24 inclusive
Additional STV entry checks – 1 July – 1 August inclusive
We thank you in advance for your patience and for online updates on all matters concerning the Olympics and Paralympics and which athletes have qualified, please visit our Olympic & Paralympic web pages.