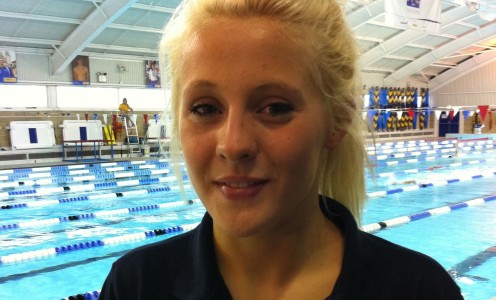 University of Bath-based teenage swimmer Siobahn-Marie O'Connor produced the performance of her life to achieve the London 2012 Olympic qualifying standard.
The 16-year-old produced a stunning swim to take gold in the 100m breaststroke final at the ASA National Championships tonight (Friday).
The competition in Sheffield was the final opportunity for Siobahn-Marie to achieve the Olympic qualifying standard and she did it in style with a personal best of  1:08.04. That took her well below the FINA A qualifying standard time of 1:08.49 – enough to secure nomination to Team GB for the Olympic Games.
She becomes the youngest British swimmer to qualify for the London 2012 Olympics.
Siobahn-Marie, who trains at the British Gas Bath Intensive Training Centre, took more than a second off her personal best time today after arriving in Sheffield with a best of 1:09.15 and clocked 1:08.61 in this morning's heats.
It was a relief for the teenager, who missed out on qualifying an Olympic berth at the British Championships in March.
"I'm so shocked," she said.  "I found it so hard to deal with missing out in March but I had to get back in and do the hard work. I've focused so much since then and now I'm going to the Olympic Games. It is just unbelievable. At one point I never saw myself going to London but I've given everything in training."
University of Bath Swimming Club team-mate Stacey Tadd, who has already qualified for London 2012 to swim the 200m breaststroke, came home second in a time of 1:08.74.
Siobahn-Marie became the second Bath ITC swimmer in as many days to secure Olympic nomination following Chris Walker-Hebborn's performance in the 200m backstroke yesterday (Thursday).
Walker-Hebborn completed a double by winning the 100m backstroke title today in 54.26, which means he has also qualified to swim that event at London 2012.
"To come here and qualify for the Olympics in two events is just amazing," said Walker-Hebborn.
"I feel like 10kg has been lifted off my back after qualifying last night and during that swim I just felt so relaxed this evening.
"I had a great swim this morning and followed it up tonight. It is just a nice feeling to know that the pressure is off. I feel like I can be myself now and enjoy my swimming. The more relaxed I feel, the more it helps my racing.
"I'll sit down with my coach and discuss where we go from here; to make sure my taper is right and I can be the best I can be in London".
Once selected by the British Olympic Association O'Connor and Walker-Hebborn  will join a team that already includes three Bath-based swimmers – Michael Jamieson, Stacey Tadd and Andrew Willis – who were all selected following their performances at the British Championships in March.
For further information please contact the Team Bath press office at Matchtight Ltd on 01225 383518 or by email at press@matchtight.co.uk
You can also find out more about Team Bath at www.teambath.com , follow us on Facebook at www.facebook.com/teambath or on Twitter at https://twitter.com/#!/teambath
The University of Bath is The Sunday Times University of the Year 2011/12.