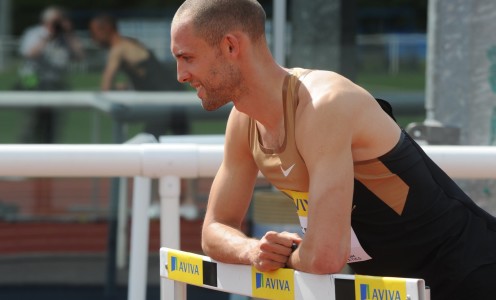 Five University of Bath-based hurdlers each took a step closer to competing at the London 2012 Olympic Games with impressive performances at this weekend's Aviva Trials.
Dai Greene, Jack Green, Eilidh Child, Andrew Pozzi and Lawrence Clarke all achieved top two finishes at the trials in Birmingham and have the A qualification times for their events.
The five are all coached by Malcolm Arnold, UK Athletics National Event Coach Hurdles.
All five look set to be nominated to Team GB on 2 July to compete at the London 2012 Olympic Games.
World champion Dai Greene took the men's 400m hurdles title at the trials yesterday with training partner Jack Green coming home in second.
"I'm just happy to get away with the victory. A few people fell and a lot of people were hitting hurdles so it wasn't very easy out there," said Dai Greene.
Jack Green said: "It's the worst technical race I've had all year – I've been practising something for the past couple of weeks and did it yesterday. First hurdle, it all went wrong so I went into panic mode and thought 'just run!'. It will sink in soon, it's a great opportunity."
Eilidh Child was just edged into second place by Perri Shakes-Drayton in the women's 400m hurdles final today (Sunday).  "It was a bit bittersweet because obviously I'd like to have won the race but I hit that last hurdle.
"I crossed the finish line a bit gutted but then I'm going to the Olympics so I'm really happy at the same time. It's a bit of a funny feeling. I'm obviously over the moon that I've secured that spot to the Olympics. I did come here thinking top two is what I needed to do."
And there was a fantastic finale for Arnold's athletes in the last event of the trials, the men's 110m hurdles, with Andrew Pozzi crossing the finish line first and Lawrence Clarke second.
"I'm on top of the world," said Pozzi. "I'm looking forward to the Olympics like you wouldn't believe. It's been building for years and years with so much media coverage, you can't help but buy into the dream so I can't wait."
For further information please contact the Team Bath press office at Matchtight Ltd on 01225 383518 or by email at press@matchtight.co.uk
You can also find out more about Team Bath at www.teambath.com , follow us on Facebook at www.facebook.com/teambath or on Twitter at https://twitter.com/#!/teambath
The University of Bath is The Sunday Times University of the Year 2011/12.