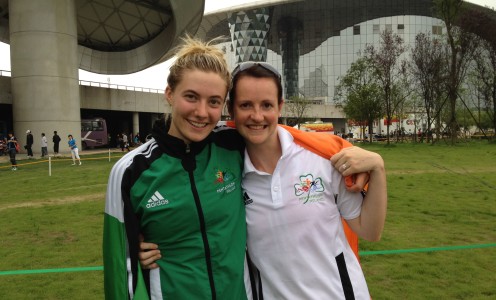 A University of Bath graduate has played a major role in helping Ireland achieve a sporting landmark by qualifying its first modern pentathlete to compete an Olympic Games.
Lindsey Weedon is a former British pentathlete and combined training at the Pentathlon GB High Performance Centre at the University of Bath with studying for a degree in Sport and Exercise Science and then an MA in Coach Education and Sports Performance at the University.
She had always wanted to be at the London 2012 Olympic Games to follow in the footsteps of two of her grandparents, George Weedon and his wife Joan, who competed as gymnasts for Britain at the London Olympics in 1948.
And Lindsey has achieved the feat by helping 21-year-old Natalya Coyle became the first Irish athlete to qualify a place at the Olympic Games in her role as performance director of Pentathlon Ireland.
It's a rapid reward for Lindsey, who took up the challenge of setting up a high performance programme in Ireland from scratch in 2009.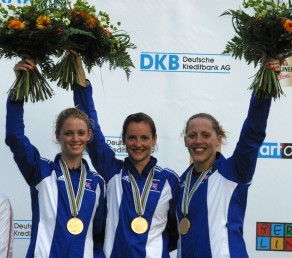 The country doesn't have the same modern pentathlon heritage as Great Britain, where the University of Bath-based high performance programme has generated medals at each of the last three Olympic Games.
It's been hard work but very rewarding for Lindsey, whose own pentathlon career included winning an individual bronze medal for Great Britain at the 2003 World Junior Championships and a team relay gold at the senior World Championships in 2007.
Natalya's success comes just over two years after Lindsey asked the Irish Sports Council to invest in the sport. And Lindsey thinks the challenging sport, where athletes fence, swim, ride and then run and shoot all in the space of one day, has a bright future in Ireland.
She said: "My role here is very different to that of an athlete and it's been quite a learning curve, but I wouldn't have taken it on if I didn't think it was feasible.
"I based the set-up in Ireland on the experience I had as a member of the British team. I don't think I could have done it without the experience I had in Bath, and my degree and MA from Bath have both been useful.
"The programme here is in its embryonic stages but it's growing," she added.
"Natalya has worked so hard and it will be fantastic to see her at the Games. Her qualification is not only a result of all her hard work and dedication, but it's been a massive team effort."
Natalya fully appreciates the role Lindsey has played in helping her get to the Games.
"I couldn't have done it without Lindsey coming along and putting the performance programme in place," she said.
"She turned us from mediocre athletes to where we are now, qualifying for world cups and the Olympic Games. If I hadn't had Lindsey I wouldn't have been selected."
The Irish athletes have already made a couple of training visits to the University of Bath.
The women's modern pentathlon at London 2012 takes place on the final day of the Games on Sunday 12 August, when Natalya will line up alongside GB pentathletes Mhairi Spence and Samantha Murray.
Mhairi, the reigning world champion, is a University of Bath Coach Education and Sports Development graduate, while Samantha is currently studying for a degree in French and Politics at the University.
Ireland have previously appeared in the Olympic record books for modern pentathlon, with three athletes contesting the Moscow Olympics in 1980 after the US boycott of the Games.
The country was not represented again at international level until Pentathlon Ireland was established in 2003. Natalya will be the first Irish woman pentathlete to qualify for the Olympics and also the first Irish pentathlete to achieve the Olympic qualifying standard.
And Lindsey's grandfather will also be at the Games again ­ he has tickets to watch the pentathlon at London 2012.