Team Bath Buccaneers, based at the University of Bath sports Training Village, plans for the new season are well advanced and hopes are high that the successes enjoyed for many seasons will continue on all fronts.
The Men's 1sts, coached by South African International and EHB CCC Coach Jody Paul, will need to bounce back from the disappointment of missing out in the Premier League Play-Offs last season and set about defending their EHL Western Conference title which they won with points to spare.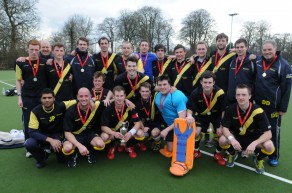 A few familiar faces have moved on but an exciting list of new recruits have be lined up while some students are back from placement years.
The attack will again be led by seasoned goals scorer Tim Davenport and the defence boosted by the return of Wales International Ben Carless.
Overall the squad will have a very young feel to it which will mean a fast learning curve will be needed to be title contenders again.
The Ladies 1sts will also have to recover from falling through the EHL relegation trap last time out but the squad are mostly staying intact to be able mount a challenge for promotion from West Premier.
The club is glad to see a few experienced performers returning to the club and that Carolyn Rolleston and Jo Thomas, both EHB Coaches, will continue to coach the side.
The clubs other 7 Men's and 4 Ladies sides will be looking to improve on good league positions last season in the restructured West leagues.
The Men's A & B will again face a tough task to retain Premiership status in the Davis Wood League with the Ladies 2nds having the same task in the West Women's League.
Club Captains Chris Jones and Janet Gubbin are very upbeat about the new season and hope that recruitment/retention of senior members of all abilities will continue to increase to compliment the student membership on campus.
The thriving Junior Academy with over 250 members of all abilities and an age range of U8 to U18 is again set to have an exciting season.
Last season success came thick and fast with a monopoly of the Avon League titles only trumped by the U16 girls reaching the EHB National Finals for the first time and the Boys U12's being crowned EHB National Champions.
Both the Boys & Girls U14's won their West Cup Competitions and the Boys U16's reached the EHB Indoor Finals. Success was also achieved in local leagues and invitation events.
Chair, Nick Kendall says "the success of the juniors has been a revelation in recent seasons and reward for our team of dedicated parents and coaches who make it all happen on a daily basis. Its not all about winning things at junior levels and we still take great satisfaction from our all inclusive approach aimed at maximising potential whilst ensuring all enjoy their hockey".
The club will again use the excellent and nearby Bath Golf Clubhouse as their post match and social base. Nick says "the relationship with the golf club has proved a big success and we are pleased that it will continue for this season to our mutual benefit".
With an expected hightened interest in hockey on the back of the Olympics, the club is hoping for and anticipating increased numbers when club senior preseason training starts back from the 2nd of August and all existing and new members are welcome including juniors circa 13 years and above.
Club all – Thursdays 19.30-21.00
1sts Teams Tuesdays – Ladies: 20.30-22.00 Men: 19.00.00-20.30
Thursdays – Ladies 19.00-20.30 Men – 20.30-22.00
There is also a Club Open Day on Saturday 1 September 14.00-16.00
Junior Academy training starts back in Sept with the U8-U12's on Sunday mornings and the older squads with midweek days and times.
Last season 'Back to Hockey' coaching sessions were held for those either new or long absent from hockey. These were targeted for women and were a great success. This season separate sessions will be offered to both Men & women.
Check out Hockey at Team Bath on our dedicated hockey web pages
Enquiries about any club matters to Nick Kendall ndk20@bath.ac.uk and see www.teambathbuccaneers.co.uk