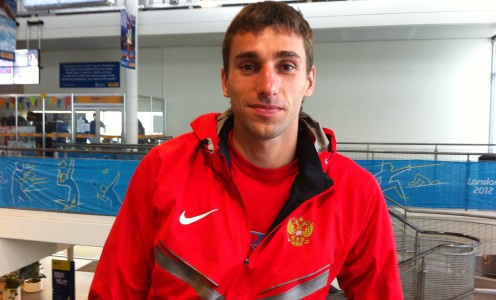 Members of Russia's athletics team became the last athletes to head to the London 2012 Olympic Games at the end of their preparation camp at the University of Bath this morning (Wednesday).
The Russians took part in a 10-day training stint at the University and are now joining up with the rest of the team in London.
They took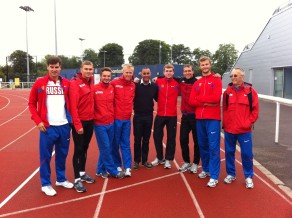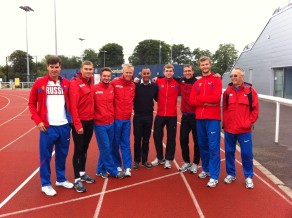 the oppourtnity to meet up with the Bath Bullet – Olympic 4x100m gold medallist Jason Gardener – who was instrumental in the team training in Bath.
The training group in Bath included long jumper Alexander Petrov (pictured), who is about to compete at his first Olympic Games.
"I'm very excited to be going to my first Olympic Games, but I still can't believe I'm going," he said. "I'm in good shape now and I'm looking forward to it."
He said the University of Bath has provided the perfect training base for the group and he hopes to be able to come back to prepare for the World Championships in 2017.
"Everything is perfect here, the facilities are great and I've spent a very good time here," he added.
His coach, Olga Shemigon, said: "Everyone here has been very helpful. They've been open-minded and always ready to help."
The University of Bath has been he training base for many teams and athletes in the lead-up to 2012.
Teams and athletes from Barbados, China, Denmark, Ghana, Iceland, Libya, Malaysia Nauru and St Vincent & the Grenadines and the UAE have trained at the University ahead of London 2012.
The University will also host the main preparation camp for the ParalympicsGB team in the lead-up to the London 2012 Paralympic Games.
Some 25 athletes who train full time at the University of Bath are competing at the Olympic Games. Six Bath-based athletes will represent ParalympicsGB at the London 2012 Paralympic Games.
For further information please contact the Team Bath press office at Matchtight Ltd on 01225 383518 or 07765 071683 or by email at press@matchtight.co.uk
You can also find out more about Team Bath at www.teambath.com , follow us on Facebook at www.facebook.com/teambath or on Twitter at https://twitter.com/#!/teambath