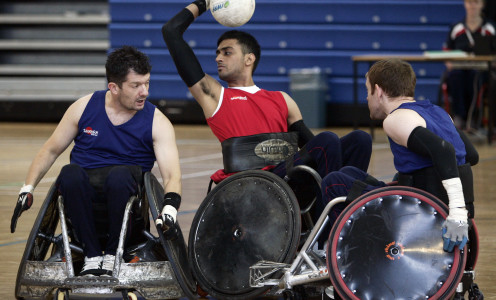 Team Bath is delighted to be hosting the final preparations for over 100 Paralympians as they get ready to compete at London 2012 from 20-28 August.
We hope that everyone in Bath, and particularly at the University, can feel a sense of pride in the role that our city is playing in this inspirational event and will be able to help us in being good hosts at such a critical time for the athletes involved.
Inevitably with the large number of athletes on site we need to make some changes to the normal operation of the facilities.
The following groups are able to use the facilities as normal and have registered to receive an accreditation pass in advance:
Paralympic athletes and their support teams
National governing body athletes who train regularly at Bath
Gold Members will be allowed access to the Team Bath Gym
Members of the public and other groups or individuals receiving treatment or other services through the Sports Injury Clinic and Human Performance Centre
English Institute of Sport staff and practitioners
If you have requested accreditation and have not been able to collect it yet, you can still collect your BPA accreditation card from the Sales Office up to Monday 20 August; from then on you can collect it by declaring who you are at the main reception with your current Gold membership or staff card.
We understand that this will disappoint some of our more regular recreational swimmers but ask you to bear with us for this period. For more information contact: team@bath.ac.uk