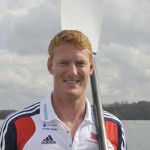 Sport/Event >
Rowing, men's openweight reserve
Date and Place of Birth >
1982, Bermuda, Hometown:  Devon, Torquay
Height > 198 cm
Weight > 102 kg
Coached by > Richard Tinkler
Boat > Open Men's Coxed Four
Club > Reading University BC
Biography >
Marcus graduated from the University of Bath with a Sports Technology degree.
In 2012 he won bronze with the GB men's eight at the Munich World Cup and silver, again with the eight, at the Lucerne World Cup.
He was selected as openweight reserve for Team GB at the London 2012 Olympic Games.
Bateman can be slotted into an openweight or lightweight crew respectively if another rower is injured or ill.
Marcus was a newcomer to the GB senior squad who won gold in the BUSA Championships and silver in the National Championships 2006. He finished second in the B final of the men's pairs at the 2006 GB Senior Selection Trials in Belgium with Simon Fieldhouse and went on to finish fifth in the men's coxed four at the 2006 World Championships at Eton.
Marcus was Lottery Funded through a UK Sport Development Grant.
A former 800m runner, Marcus took up rowing in 2004 whilst on placement at Lehigh University in the USA. He went on to row at the University of Bath as part of UK Sport's World Class Start programme, where he was coached by Paul Stannard, and became the first rower from the University of Bath to earn a GB senior vest when he was invited to join the senior men's national squad shortly after graduating in 2005 with a BSc in Sports Technology.
Marcus won the junior single title at the BUSA Championships in 2005 and finished second in the single at the National Championships in 2005. During the 2006 World Cup, he took a 3rd place in the Poznan B Finals.
A former 800m and cross-country schools champion for South Devon, he holds the Torbay AC 800m record and was a Devon Schools Football finalist. He enjoys extreme sports such as surfing, kite surfing and snowboarding and his sporting heroes are Lord Coe, Michael Johnson and Daley Thompson.
Headline Result >
Silver – GB Men's eight – Lucerne World Cup – 2012
Bronze – GB Men's eight – Munich World Cup – 2012
The Telegraph and British Rowing profiles >