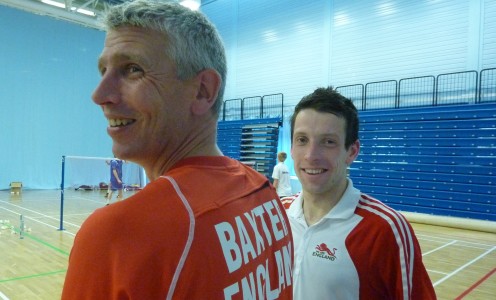 University of Bath graduate and former English number one badminton player Carl Baxter returned to the Sports Training Village to thank his former coach.
Baxter spent four years training and studying at the University of Bath and graduated with a first class degree in Coach Education and Sports Development in 2007.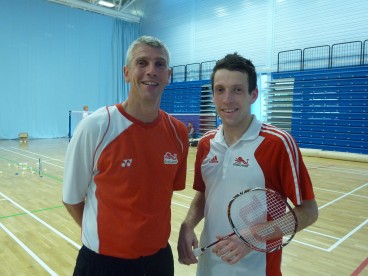 He announced his retirement from the international game earlier this year to concentrate on his career working in the Sport and Entertainment Department of global insurance and consulting company Aon.
But he returned to the University of Bath to thank his former coach, Pete Bush, take part in one final training session at the University and provide some coaching tips to the current crop of University players.
Baxter teamed up with Bush when he came to England from Canada as a 17-year-old in 2003. His career highlights have included a team bronze with England at the Delhi 2010 Commonwealth Games and men's singles titles at the Canada Open in 2011 and Croatia Open in 2007. He was four-times runner-up in the men's singles at the English Nationals.
"I'd like to say a special thank you to Pete, who has both coached and mentored me since the day I moved over in 2003. Without his help in the early years, I would have achieved nothing later on," said Baxter.
"It was a lot of fun here," he added. "It was good for my badminton.  I went from being 17 and pretty average to getting a place on Badminton England's Performance Programme."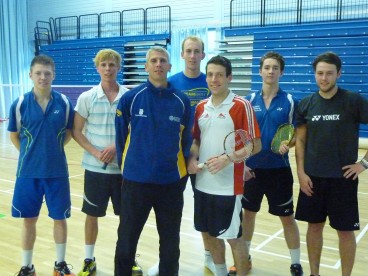 He said it was well worth the effort of combining his sport with studying for a degree.
"Like a lot of sportspeople all I wanted to do was play my sport, but in hindsight it was probably one of my best decisions to study for a degree. I'm sure I wouldn't have the job I have today without it," he said.
To thank him for his support, Baxter presented one of his Delhi 2010 Commonwealth Games playing shirts to Bush.
Bush said: "Carl was always very self-motivated. He had that drive to achieve and that's why he has been so successful. Many younger athletes could learn from his self-motivation.
"Carl always said he'd come back to Bath and for one final training session at the end of his career and it was great to see him."
Baxter reached a career high number one in the English men's singles rankings and 25 in the world. He won 15 senior England caps.
After graduating he was selected to train at Badminton England's National Training Centre in Milton Keynes. He plans to continue training in London when he can and will continue to play some club badminton in Germany.
You can find out more about Team Bath on our website teambath.com
You can also follow Team Bath on Twitter at twitter.com/teambath or facebook.com/teambath
For further information please contact the Team Bath press office at Matchtight Ltd on 01225 383518.