With the students now back on campus, staff and students will get the opportunity to celebrate together the achievements of current and recent University of Bath students who won medals at the 2012 Olympic and Paralympic Games.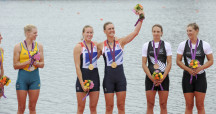 Heather Stanning, a Bath graduate and winner of Team GB's first gold of the Games in the sport of rowing with Helen Glover, will headline a list of athletes from both Games who will be at the University's Founders' Hall this Wednesday lunchtime (13.15).
Staff and students of the University are welcome to attend and watch the presentation which will include inspirational TV footage from both Games as well as the opportunity to have their picture taken with the Olympic torch.
Stanning will be joined by swimming and modern pentathlon Olympic silver medallists Michael Jamieson and medallist Samantha Murray respectively. Jamieson, of course, won his medal on the same day as Stanning as part of a super-Saturday not just for Team GB but also the University of Bath.
Murray's medal was Team GB's 65th of the Games and rounded off the whole Games for the British team.
Paralympic medallists Katrina Hart (athletics) and Liz Johnson (swimming) as well as sailor Alexandra Rickham will also be called up on stage to be presented to the internal University audience.
ParalympicsGB has enjoyed a special relationship with the University of Bath this year as over 100 athletes across the sports attended a final preparation camp on campus in late August before the Games began.
You can find out more about Team Bath on our website teambath.com
You can also follow Team Bath on Twitter at twitter.com/teambath or facebook.com/teambath
For further information please contact the Team Bath press office at Matchtight Ltd on 01225 383518.