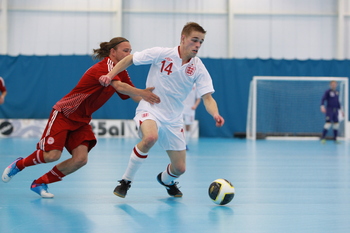 The University of Bath Futsal Club has been functioning for almost five years providing opportunities for men and women studying at the University to play Futsal at an elite or recreational level.
The club ran by students under the Football Club section also provides community Youth Futsal sessions as well as support the local Adult Somerset FA Futsal Fives league at Ralph Allen School every week.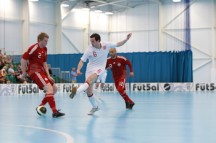 The hard work that has gone into developing the club to this point was rewarded over the last few weeks with International recognition and exciting developments taking place.
Starting at the recent England Futsal Team training camp on the 19-21 October in preparation for next January's European Championship Futsal Pre-Qualifiers. Three Bath players received international honours from The FA Chairman Mr David Bernstein for representing England during last season.
Picking up their cap included Coach Education and PGCE graduate Ian Parkes who now has 11 caps, Modern Foreign Languages and MA in Translation student Dave Jennings who has two caps and Captain of England Luke Ballinger who picked up a special cap after reaching the milestone of 50 during the last fixture.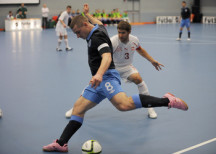 This is a fantastic honour for these three players who have been a key part of the club and England's steady progress.
This highlights the success of the club to develop domestic talent, which is further underlined as Goal Keeper Brendan Dix, currently the third choice stopper for England plus current club skipper and MA student Mark Ingram and Coach Education and Sports Development graduate Rob Yilmaz are all a part of the England Development Squad.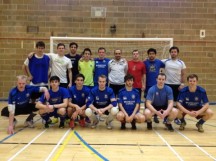 They along with Welsh Internationals MA student Lee Jones (GK) and MA in Education graduate and player/coach Sion Kitson will be doing battle in the forthcoming European Futsal Championship pre-qualifying round next January flying the flag for the University of Bath.
Then on the 23 and 25 October Luca Di Eugenio the Assistant Coach and Goal Keeping coach of Italian Professional Side Acqua e Sapone who currently sit fourth in the Futsal Serie A who also coaches at the local University side C.U.S Chieti delivered two sessions to our Goal Keepers.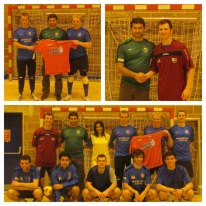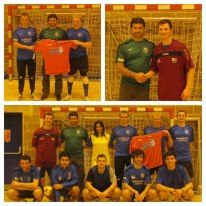 Luca is the former goal keeping coach of Italy's current number one Mammarella who will be representing Italy in Thailand at the Futsal World Cup during November. He is an elite specialist goal keeping coach and it was a privilege to welcome him to our club.
Over the two sessions Luca put our goal keepers through their paces from technical shot stopping and blocking to improving distribution from their feet and hands. For domestic goal keepers to receive professional coaching is a great honour which allowed our goal keepers to learn a huge amount and absorb valuable information.
Luca praised the goal keepers for their dedication and hard work and saw a lot of potential in them. Luca also spent time watching the players and passed on some helpful tips to Head Coach Sion Kitson during a first team training session.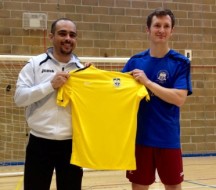 The club thanked Luca and his wife Sara for visiting and taking the time to work with our club. The club then presented Luca and Sara a club shirt to remember us by in return for Luca passing an Acqua e Sapone shirt to the club.
It is now hoped a partnership between the two clubs and the local University in Italy can be formed over the coming months and years to include a sharing of knowledge, coach education visits for the staff, pre-season trips for the players, placement opportunities for students as well as developing holiday camps for both English and Italian children to enjoy Futsal.
Watch this space for more news on this exciting story!
Finally, last week the club received a special visit from Kaka the current Coach of Russian Super League leaders Gazprom Urga courtesy of Ginga Sports and Janio Cruz. Janio a Brazilian Futsal Coach who lives and applies his trade in London with National League side West London has many contacts in the Futsal world including the ex-Barcelona and Dinamo Moscow player Kaka who has recently moved back to Russia to take up his current coaching position.
In Russia Futsal is big business with Kaka's team budget for the current season eight million pounds.
Kaka is a top player and coach and for the club to have the opportunity to learn from him is simply fantastic.
Over two days Kaka worked with not only the first team but also the second Team and our u16s Youth team at Ralph Allen School.
The players went through a series of technical and tactical practices highlighting the key components British players need to work on to improve as Futsal players.
Futsal is still only eight years old in Britain and the nation has to work hard to catch up the rest of the world.
However, with the likes of Kaka supporting smaller nations our players, coaches and clubs have a much better chance of doing so.
The sessions were delivered excellently by Kaka and Janio that tested the players physically and mentally. A lot of knowledge was absorbed by the club which helps the first team prepare for their big FA National League home fixture to Oxford last Sunday fourth November (3pm Ko, Uni of Bath, Founders Hall). The club would like to extend its thanks to Kaka and Janio for coming to Bath and delivering sessions to our players.
The University of Bath Futsal Club has had an exciting October with many highlights.
The club continues to grow and the standard of Futsal is gradually improving year on year. It is very much hoped the opportunities above are only the start as the club continues to move forward.
If anyone is interested in learning more about Futsal at the University please contact Club Chairman Lee Jones via email at laj24@bath.ac.uk .
If you are interested in knowing more about Adult Futsal in the Community please email Sion Kitson at ed3spk@bath.ac.uk .
If you are interested in learning more about Youth Futsal please email richardhorlock@hotmail.co.uk