The University of Bath has been chosen as the filming location for a one-off spectacular Olympic "Superstars" special to celebrate the successes of 2012.
Sporting celebrities including Mo Farah, Katherine Grainger, triathlon's Brownlee brothers and Christine Ohuruogu will be in Bath for the event which will screen on BBC One as part of the Christmas schedule.
A trio of Bath-connected Olympians will also compete on the show – swimming silver medallist Michael Jamieson, a current University student, as well as gold medal rower Helen Glover and judo silver winner Gemma Gibbons.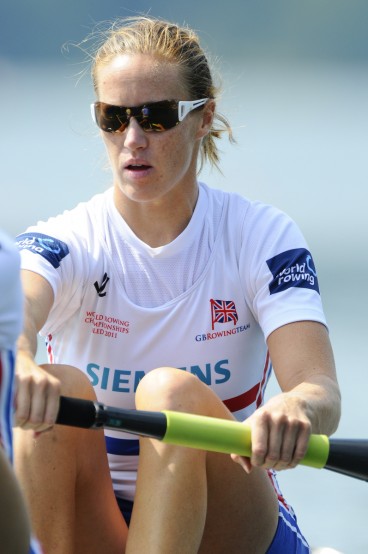 Glover learnt to row in Bath as part of the University-based GB Rowing Team's Start Programme whilst Gibbons trained in the University dojo for a number of years.
In total, sixteen of London 2012's British Olympic heroes (eight men, eight women) will compete against their Team GB teammates in a dramatic and thrilling competition, as they vie to be crowned the two best all-round Superstars.
They follow names like Sir Steve Redgrave, Dame Kelly Holmes and former Bath sporting stars Mike Catt, Jason Gardener and Mark Foster who have all taken part in previous editions of the popular show.
Spectators can apply for free tickets to watch the event from: www.applausestore.com
"It's a great coup for the University and for Bath to be chosen to host this TV spectacular. It underlines Bath's top-flight sporting credentials and will provide a reminder of the glorious summer of sport in the UK in which Bath-based athletes played a full part", said University of Bath spokesperson Will Marsh.
The athletes' versatility and determination for the current series will be pushed to the max as they participate in eight different disciplines – on the track in the 100 metres and 800 metres, on the field in the javelin, take to the pool in a 50 metre swim and test their archery skills. The sporting contestants will tackle a kayak race and use their cycling skills in a hill climb. Their efforts will culminate in a grand finale featuring the classic Superstars event – the gym tests.
The full line up is:
Alistair Brownlee, Olympic gold winner, Triathlon
Jonathan Brownlee, Olympic bronze winner, Triathlon
Mo Farah, Olympic double gold champion for 5,000 and 10,000 metres
Robbie Grabarz, Olympic bronze medal winner, High Jump
Michael Jamieson, Olympic silver medallist in 200 metres breast stroke
Anthony Joshua, Olympic gold winner, Boxing (Super Heavy weight)
Andrew Triggs Hodge, Olympic gold winner, Rowing (Coxless Four)
Peter Wilson, Olympic gold winner, Shooting (Double Trap)
Nicola Adams, Olympic gold medal winner, Boxing
Lizzie Armitstead, Olympic silver medal winner, Cycling (Road Race)
Laura Bechtolsheimer, Olympic gold and bronze medal winner, Dressage
Gemma Gibbons, Olympic silver medallist, Judo
Helen Glover, Olympic gold medal winner, women's coxless pair
Katherine Grainger, Olympic gold winner, Double Skulls
Jade Jones, Olympic gold winner, Taekwondo
Christine Ohuruogu, Olympic silver medal winner, 400 metres
In addition, London 2012 bronze medallist, swimmer Rebecca Adlington, will also act as a mentor to all the athletes in the swimming event. She'll be providing useful tips and guidance on technique, as well as of course encouragement to her Team GB teammates.
Superstars 2012 will be hosted by Gabby Logan who, fresh from her success as one of the faces of the BBC's London 2012 coverage, will oversee the proceedings. Gabby will be following in her father's footsteps, as her dad, former professional footballer Terry Yorath, also featured on Superstars during the 1970s.
She'll be joined by former Olympians Denise Lewis and Iwan Thomas. The Superstars 2012 games will be shot in front of an eager crowd at the University of Bath, which boasts state of the art sporting facilities. The grand finale will see the competitors battle in the historic setting of the city's Assembly Rooms.
Gabby Logan said: "I am thrilled to be hosting this special edition of Superstars; we have an incredible line up of Olympic heroes. What an opportunity for them to compete against each other across a range of diverse physical challenges. My dad was on Superstars back in the late 70s and as a kid it was one of my favourite shows."
Mark Linsey, Controller Entertainment Commissioning, said: "As a great fan of the original series I am thrilled to commission this one-off for Christmas. It will be a real treat especially as it will star an unbelievable line up of medal winning athletes from London 2012."
Alistair Brownlee (Triathlon) said: "Let's see if we can repeat our London 2012 achievements and get two Brownlee brothers on the Superstars podium."
Andrew Triggs Hodge (Rowing) said: "The legacy of the superstars is as strong as that in rowing itself! I'm looking forward to being part of the one true thing that all athletes look up to! The Superstars event!"
Anthony Joshua (Boxing) said: "I can't wait to get started. I've been training in the gym for a little while now…it's going to be interesting to try some different sports and see how I get on!"
Christine Ohuruogu (Athletics 400 m) said: "I've always been a fan of Superstars and have wanted to take part ever since I watched two of my former GB team mates; Kelly Holmes and Jason Gardener take part in the 2008 show".
Gemma Gibbons (Judo) said: "Being asked to participate in Superstars is an amazing opportunity to try new sports in a competitive environment and of course I am able to meet loads of other athletes, so it is going to be lots of fun!"
Helen Glover (Rowing) said: "I love challenging myself and enjoy all types of sport so I am very excited to be involved with Superstars. I'm not sure if my preparation will be quite as it was when trying to become an Olympic champion but I will be giving it my best shot."
Jade Jones (Taekwondo) said: "I am the youngest competitor on Superstars but I won't let that faze me. We are all Olympians and we will all have different strengths so I think we are actually on quite a level playing field. I think it will be an interesting competition."
Jonathan Brownlee (Triathlon) said: "Having Alistair taking part in Superstars as well doesn't faze me, this is not triathlon, there will be no team tactics, but we will be competitive, let the best brother win!"
Katherine Grainger (Rowing) said: "It is always great to take part in something a little more light-hearted at the end of the year and after achieving my dream in London I'm looking forward to finishing 2012 on another sporting high by participating in Superstars."
Laura Bechtolsheimer (Dressage) said: "There haven't been many Equestrian athletes over the years who have taken part in Superstars so I am looking forward to representing the riders, hopefully without causing too much embarrassment!"
Lizzie Armitstead (Road Cycling) said: "It is so exciting to be a contestant on Superstars. I am sure the experience will be great fun and am looking forward to testing my skills against other amazing athletes."
Michael Jamieson (Swimming) said: "I feel very excited to be taking part in such a great show and even more so as it is taking place where I train, my friends and teammates are going to come along to the events and cheer me on which will hopefully give me an advantage over the other athletes."
Mo Farah (Athletics Endurance – 5,000m/10,000m) said: "Superstars is going to be a lot of fun. I'm really looking forward to it. After a hard season it will be nice to compete in a different environment. Some of the events are quite new to me which will make it all the more interesting."
Nicola Adams (Boxing) said: "Superstars is a legendary programme which has featured some of the greatest athletes of all time, I feel privileged to be entering into such an elite group of sports people."
Peter Wilson (Shooting) said: "Taking part in a Superstars Olympic special is going to be an amazing end to a brilliant year. It will be great to get a lot of team GB together again, however it will be strange competing against each other rather than cheering each other on like in London."
Robbie Grabarz (Athletics – High Jump) said: "I've always enjoyed watching Superstars and love the idea of a number of elite athletes from different sports battling it out to see who comes out on top."
Superstars was first broadcast in the UK on BBC One during the 1970s and 80s and was based on a US format. Hosted by David Vine, elite athletes competed across several disciplines.
For further information contact the Team Bath Press Office at the University of Bath on (01225) 383518 or (01225) 443998 or 07831 755351 or e-mail press@matchtight.co.uk