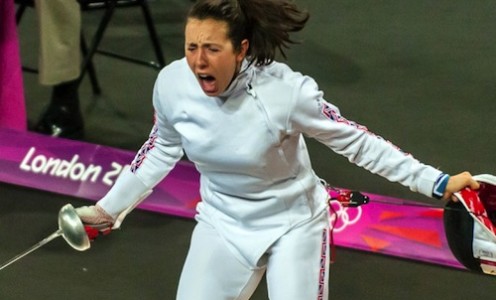 A stunning photograph of University of Bath student Samantha Murray taking part in the London 2012 Olympic fencing competition has been voted modern pentathlon photo of the year for 2012.
The photo taken by Paul Roberts, shows Samantha celebrating victory in one of her fencing bouts at the Copper Box and captures the passion and emotion that the sport can generate.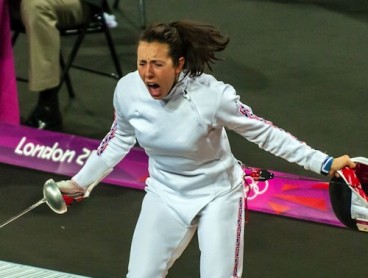 Samantha, who is in the final year of a French and Politics degree at the University, had to show grit and determination after losing her opening seven bouts in the fencing discipline. But she battled back to come 16th in the fencing, putting her on a firmer footing to go on and win the silver medal.
She went on to become the fifth British woman modern pentathlete to medal at an Olympic Games since the sport for women was introduced at Sydney 2000.
Thousands of people took part in the online pool on the UIPM's website with 20 photos being considered. Some 51 per cent of voters chose the picture of Samantha.
Some 51 per cent of the thousands of people who voted for the 20 photos in the online poll on the UIPM's website voted for Paul's picture.
Paul said: "The images I got of Sam celebrating getting her fencing back on track captures a small part of the drama that unfolded in the Copper Box. Only as the day went on did the significance of that victory celebration become clear!
"It was a roar only beaten by the crowds roar a few hours later when Sam ran back into Greenwich Park in the silver medal position."
And Samantha also said she was pleased that Paul's photo of her topped the poll. "It's a real honour to have been voted as picture of the year by the public and pentathlon fans," she said. "I don't think it's the best photo, but it reflects my determination to win an Olympic medal. I hope it can inspire some young athletes to follow their dreams.
"Most of all it's really cool that people voted. Thank you to everyone who took part and also for Paul Roberts for his great images from this season.  I can't remember what I was thinking when this image was taken, but I know that I was in fierce fighting mode and wasn't going to give anything away after coming back from a seven-defeat start."
To see some of Paul's work, please go to robertssportsphoto.com