Planning a healthy, nutritious diet around your swimming schedule can be tricky.
Get nutritional advice at the Sports Injury Clinic at the University of Bath.
To discuss your requirements please email >
Renee McGregor, Registered Dietitian and Sports Nutritionist.
To book an appointment call the Sports Injury Clinic reception on 01225 383636.
Get Into Swimming
Team Bath's nutritionist Renee McGregor tells "Get Into Swimming" magazine how to get the balance just right.
Click the articles below to read full size >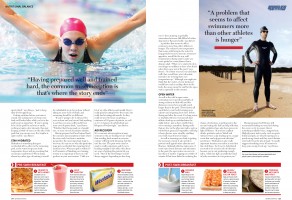 Get Into Swimming is available now in WH Smith, ASDA and Tesco.