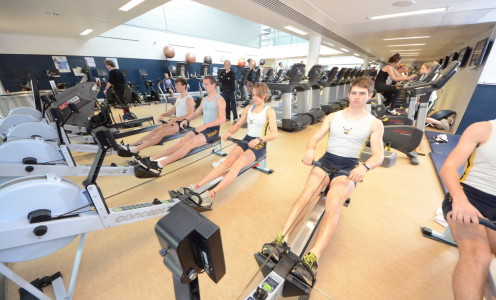 Training under a banner of Olympic gold medallists Heather Stanning and Helen Glover has proved a huge inspiration for University of Bath student Frazier Christie, who is aiming to take the next step up in his own rowing career this weekend.
The 20-year-old Economics student puts in the hard yards on the rowing machines in the Team Bath gym, just below a giant banner depicting Stanning and Glover.
Like Christie, Stanning and Glover both learned to row on the GB Rowing Team's Start programme at the University of Bath. Stanning combined training with studying for a Sports Technology degree. They went on to make history at London 2012 by becoming Britain's first women's rowing crew to win Olympic gold.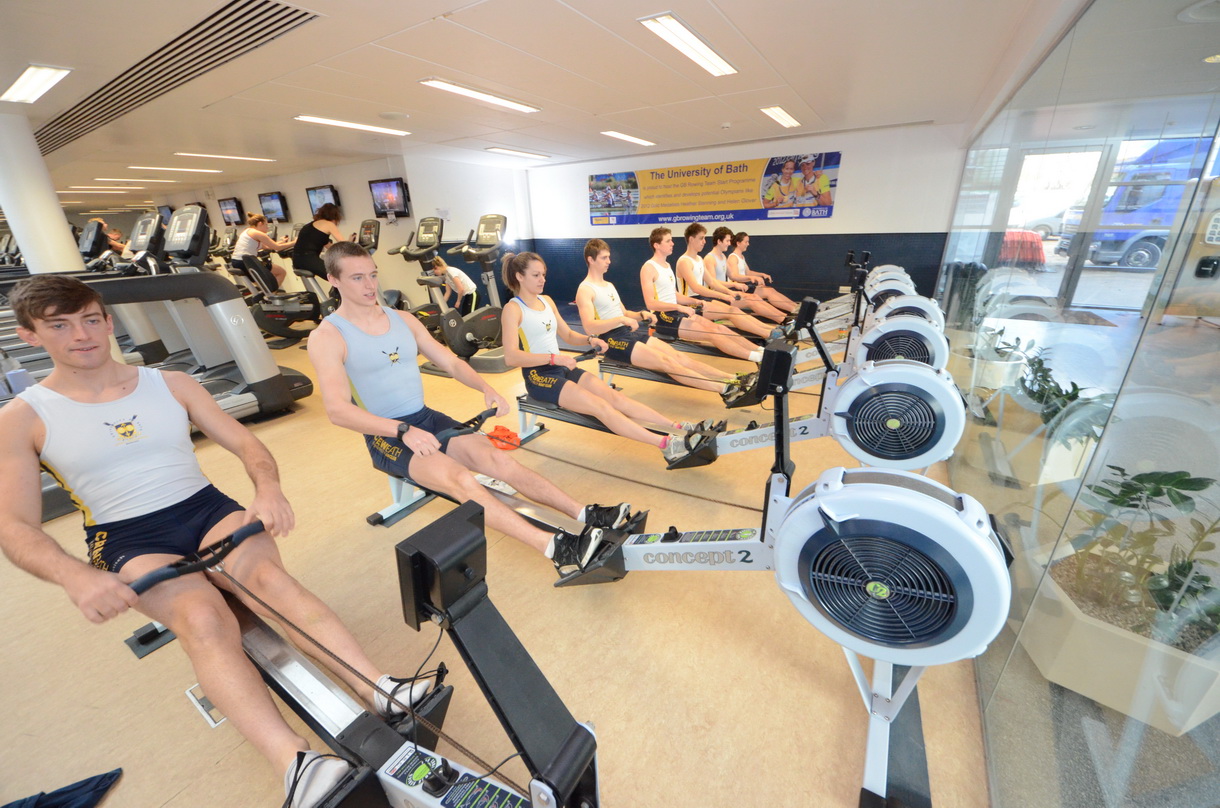 Christie aims to take a step closer to achieving his goal of competing at an Olympics when he rows at the GB Rowing Team's second Winter Assessment trials in Lincolnshire on Saturday (9 February).
Christie (pictured below)  is one of four University of Bath rowers selected for the trials and his talent on the water has already been recognised – he was invited to attend a GB Rowing Team training camp at altitude in Spain at the start of the year along with the British senior and under-23 squads.
"I joined the Start programme just after Heather and Helen left Bath, but it's been great to train alongside the banner of them that's been in gym since they won their gold," he said.
"It was hard work training at an altitude of 2300m in Spain, but I got a lot from it," he said. "There were some training benefits, but it was also good for my confidence to know I'm considered one of the top guys."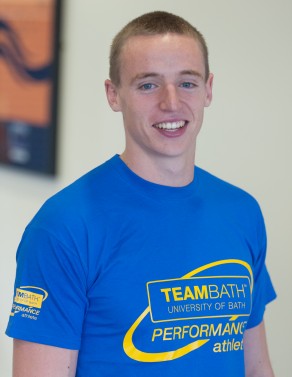 The Olympics may be a few years away, but in the meantime Christie has his sights set on a place in the GB team at the Under-23 World Championships in Austria in Austria.
"My ultimate goal is to represent Great Britain at the Olympics. The GB team has a good development pathway and in the short-term I want to get to the Under-23 World Championships. That would be a good stepping stone," he added.
Christie recognises getting to the Rio Olympics in 2016 will be tough in his first year as a senior.
"All I can go is step-up, take my opportunities and go for it," he added.
Dan Harris, GB Rowing Start Coach at Bath, said Christie has shown the sort of commitment and dedication needed to progress.
"He has a good attitude to training and is totally committed," he said. "Because of that he is physically robust and physiologically he has stepped up massively."
Christie started rowing as a sixth former at Prior Park College and now receives support at the University of Bath from a Santander Scholarship. He is also a TASS student.
As well as training at altitude with the GB Rowing Team at Sierra Nevada, Christie also got some extra altitude training at Christmas in Kenya, where his father serves with the British Army.
Christie partners Economics student Jack Cadman in a pair at the weekend – both will be aiming to secure invitations to the final senior trials in April.
The other Bath pairing sees Mechanical Engineering student Alex Wilding, who receives a Bill Whiteley Scholarship, rowing with Ben Jackson, a Sport and Exercise Science student.
Are you:
Female aged 16-22, at least 178cm? Male aged 16-20 at least 188cm tall? Want to get tested?
Contact Dan Harris to apply for the GB Rowing Team Start Programme.
You can find out more about Team Bath on our website teambath.com
You can also follow Team Bath on Twitter at twitter.com/teambath or facebook.com/teambath
For further information please contact the Team Bath press office at Matchtight Ltd on 01225 383518.