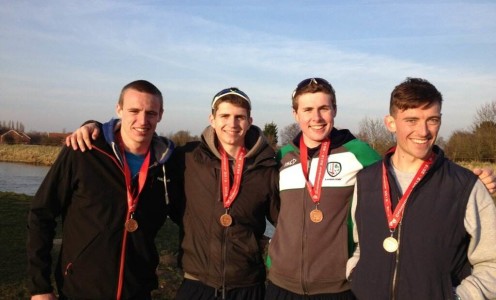 Four of the University Championship crews finished in the top six at the BUCS Head, held over a five kilometer course, in Boston, Lincolnshire.
The Start athletes who were at GB Rowing Trials the previous weekend, were back in action claiming third in the Mens Championship 4-, the crew of  Jack Cadman, Frazier Christie, Alex Wilding , Ben Jackson took bronze in a highly contested event.
They then went on to team up with Start athlete Charlie Willard and three of the University rowers to compete in the Men's Championship 8+ finishing fifth.
Mens 4- 3rd
Mens 8+ 5th
Womens 4x 5th
Mens 4+ 6th
These were certainly the best men's results at this event since at least 2005 and we are looking forward to the rest of the season.
The next big event is the Men's and Women's Head of the River Race, held on the Thames over the same stretch of river Oxford and Cambridge famously race on.
Bath students are third under-23 pair at rowing trials 13 February 2013