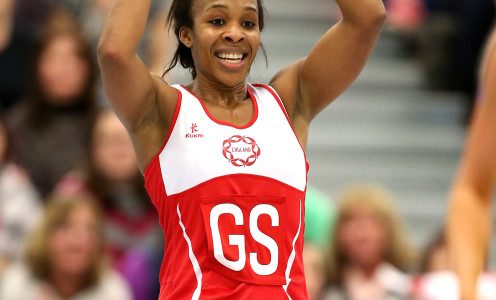 The University of Bath is set to play a key role in helping England Netball achieve its goal of making England become world netball champions within six years.
England Netball has announced that the University of Bath will host one of its new Intensive Netball Training Centres (INTCs).
A network of three Intensive Netball Training Centres is being developed by England Netball to improve the standard of the country's best netballers and help England achieve its aim of becoming world champions by 2019.
Bath and Manchester are named in the first tranche of INTCs identified by England Netball and work is on-going to select an INTC host in the London area.
The University of Bath has a strong track record in identifying and developing some of England's top netballing talent. To date more than 30 Team Bath netballers have represented England at various levels
Four current Team Bath players featured in the England team that beat Australia 3-0 in last month's international test series. Pamela Cookey, a University of Bath Business Administration graduate, captained the team and was joined on court by Sports Performance graduates Kadeen Corbin and Stacey Francis, and by Serena Guthrie.
A further six former Team Bath players also featuring in the England squad during the series, including University of Bath graduates Sara Bayman (Sport and Exercise Science), Sasha Corbin (Sports Performance) and Rachel Dunn (Biology).
The role of England Netball's INTC network is to produce high quality netball athletes through programmes of regular coached training and supervised strength and conditioning. INTCs will also offer the wrap-around support that elite level performers require, for example on-site physiotherapy, performance lifestyle and medical services.
Performance Director for England Netball, Paul Davies, said:  "We have been delighted by the level of interest and the number of partners who have come forward wishing to join with us to host an INTC. The process for selecting who will host the INTCs has been detailed and with such high quality bids we have had a number of difficult decisions to make.
"In selecting Bath and Manchester we are confident that we have the right partners who have shown the necessary drive and ambition to work with us as we continue to build a world class system for netball in England."
Stephen Baddeley, Director of Sport at the University of Bath, said: "We're delighted with the announcement that we'll be hosting one of England Netball's Intensive Netball Training Centres.
"Our track record of developing talented netball players speaks for itself and we're committed to building on that work," he added. "We already have a strong partnership with England Netball and we feel that this announcement can only strengthen that relationship."
England Netball's announcement comes just days after British Swimming announced it was set to reaffirm its commitment to its successive Intensive Training Centre at the University of Bath for another four years.
British Athletics have also committed to an on-going partnership with the University of Bath through to 2017.
The University of Bath is one of Europe's leading high performance environments, hosting more than 250 international level athletes and national and regional squads across a dozen sports.
For further information please contact the Team Bath press office at Matchtight Ltd on 01225 383518.