Bobby Crutchley, former University of Bath hockey coach, has been named the new head coach of the England men's hockey team.
Crutchley, who still lives in Bath, coached University of Bath and Team Bath Buccaneers teams from 1999 to 2005.
During that time he coached the University men's team to their first British Universities final.
He was also player/coach when Buccs men's firsts won the then West Premier League and qualified for the National League for the first time, scoring the winning penalty stroke in the last play-off game.
From 2002 Crutchley was a member of the coaching teams for the England men's under-21 squad and the women's senior squad, before being appointed to the full-time role of assistant coach to the England senior men's squad in 2005.
Despite his international commitments, Crutchley still finds time to help out coaching the Team Bath Buccaneers Academy on Sunday mornings.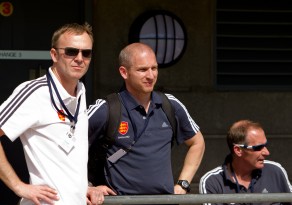 As a player, Crutchley was a high scoring forward, representing his country 80 times and winning a bronze medal at the 1998 Commonwealth Games.
He was a member of the GB coaching teams at both the Beijing Olympic Games in 2008 and at London 2012.
Crutchley said: "As someone who has a strong passion for coaching and for hockey in Great Britain, I am absolutely delighted to have been given the opportunity.
"With personnel changes, following the London Olympics, there will be significant challenges, particularly in the short term. However, I am confident that the team can evolve to continue to challenge for medals at the highest level."
You can find out more about Team Bath on our website teambath.com
You can also follow Team Bath on Twitter at twitter.com/teambath or facebook.com/teambath