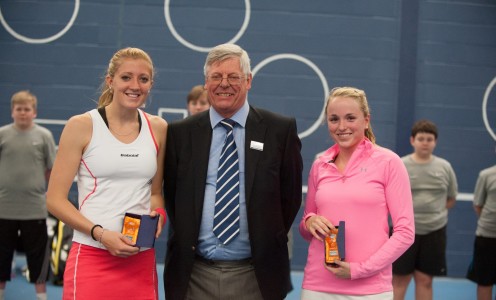 Team Bath-MCTA's Lisa Whybourn teamed up with Germany's Nicola Geuer to take the Aegon GB Pro-Series women's doubles title at the University of Bath's Sports Training Village this weekend.
The unseeded duo recorded a straight sets win over Viktorija Golubic and Julia Kimmelman, a Swiss–German combination in the final by 6-3,6-4.
21 year-old Whybourn, who is ranked in the world's top 300 as a singles player, and Geuer also played an unseeded pair in the semi-finals after top seeds and Team Bath-MCTA players Samantha Murray and Emily Webley-Smith went out in a tough quarter-final.
Victory for Whybourn was some compensation for her second round exit in the women's singles.
Ed Corrie, who defeated Team Bath-MTCA's Richard Gabb in a tense and well-contested quarter-final went on to take the men's singles title from fellow Brit Dan Evans.
Evans had earlier lifted the men's doubles trophy with Lewis Burton.
The competition contlcuded with number two seed Stephenie Vogt of Liechtenstein beating Belgium's An-Sophie Mestach in the women's singles final 7-6 (3) 6-3.
"We have had a good week of tennis action at the Sports Training Village", said Barry Scollo, Director of Tennis at the University. "It was great to see Lisa take the title in this $15,000 event".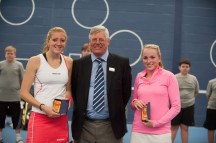 For more tennis information visit: www.teambath.com/tennis or www.lta.org.uk
You can find out more about Team Bath on our website teambath.com
You can also follow Team Bath on Twitter at twitter.com/teambath or facebook.com/teambath
For further information please contact the Team Bath press office at Matchtight Ltd on 01225 383518