It has been a hectic month at the centre with lots of external events and some freezing temperatures to play in due to various events taking all the indoor courts!
IHPC Academy
It was great to see Rich Gabb qualify and win two rounds in the main event beating the No.1 seed Josh Goodall first round.
Even better was Lisa Whybourne taking the ladies doubles title, a first for a home based player… well done Rich and Lisa.
We had other success in the form of Millie Bissett winning the U9 masters at the National Tennis Centre and Dan Little reaching his first British Tour semi-final.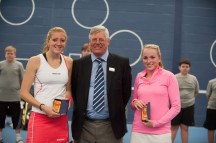 Meanwhile all other academy players and juniors were outside in some harsh conditions… they did well and thank you to ALL parents for putting up with the disruptions.
University tennis
A big congratulation is in order to the University Girls 1st team they successfully defended their BUCS title in Leeds.
In addition, Tash Starling, Steph Cornish, Alex Walker, Max England and John Thompson have all been selected for the British University Team to face the All England Lawn Tennis Club at Wimbledon. This is a great honour and prestigious fixture in University Tennis calendar.
University Club Championships going very well with all matches progressing nicely
Club update
Easter camps were a real success with good numbers and fun had by all.
Cardio tennis is going from strength to strength with good numbers and great sessions being run… and no complaints about the volume of music which is always good!
I would like to congratulate the team for growing the regularly competing juniors (RCJ's) figure by nearly 100% this is a great testament to all young players trying to get more matches and enjoy competition.
Upcoming events
AEGON team tennis
All age groups plus seniors during weekends until the end of May come along and support if you can.
25 May – Mini Tennis French Open as part of the new World Tour
28 April – University Club Champs Finals
24 April – 2nd Team Girls Play offs for place in the premier league and join the 1sts!