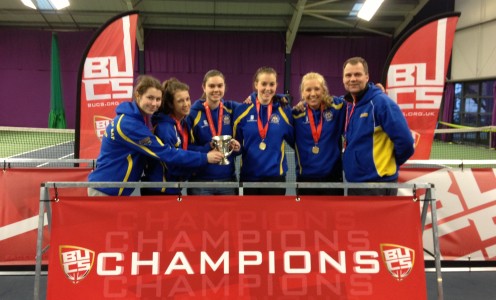 The Womens 1st team travelled to Leeds to play the final of the BUCS Championship against Exeter.
The team consisting of Steph Cornish, Alex Walker, Natasha Starling and Barbara Pietrkiewicz had already retained the Premier League South title earlier in the year.
The match was highly competitive throughout and the team showed great desire in winning some close matches on their way to winning the title for a second successive year.
Captain Alex Walker said "Today was tough but we dug deep. Team spirit is high and we all enjoyed the challenge that Exeter gave us. We are now unbeaten for the previous two years and will look to build on this success in the future".
Coach James Andell said "The girls have shown a great appetite for putting in the hard hours of training on court and have got great team spirit. We will look to continue working on the process of getting better and hopefully success will follow"
Results
| | | | |
| --- | --- | --- | --- |
| Cornish / Walker | lost | Kurlak / Lucy | 7-6, 6-7, 7-10 |
| Starling / Pietrkiewicz | beat | Nebojanko / Lipan | 7-6, 7-6 |
| Cornish | beat | Kurlak | 6-3, 6-3 |
| Walker | beat | Lucy | 6-1, 3-6, 6-3 |
| Starling | lost | Nebojanko | 0-6, 6-7 |
| Pietrkiewicz | beat | Lipan | 6-1, 6-3 |