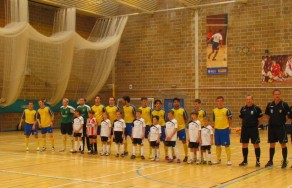 Fixture: FA National Futsal Super League (Group C)
Date: Sunday 21st April 2013
Score: Team Bath 4 – 5 London United
Venue: Founders Sports Hall, University of Bath
London United Steal Victory with Late Surge!
On match day two of the FA Futsal Superleague Team Bath hosted London United Futsal Club in Group C.
The southern league qualifiers lost their first match to Middlesbrough 5-4 and were looking to get their campaign back on track whilst Team Bath were hoping a positive result would put them in a good position at the half way point.
Bath executed their game plan brilliantly in the opening stages frustrating the visitors by defending deep and playing on the break.
London controlled the possession but were reduced to long range efforts. It was the home side that duly opened the scoring from a set piece. Ballinger played to the back post and Kitson slid in to make it 1-0 from a very tight angle.
Within two minutes Khurana then took centre stage as he made it 2-0 after a ball fell loose following a corner which he stroked home from 10 yards.
Bath hit a purple patch and could have scored more goals as Parkes, Ingram and Ballinger all spurned glorious opportunities. Then on 14 minutes Khurana made it 3-0 as Horlock picked him out with a delightful ball to the back post.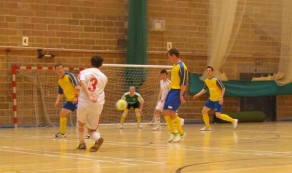 Bath were playing well and closing in on a great first half performance.
The mood of the game changed when London United pulled one back before half time regaining the ball on the left flank and arrowing a ball into the top corner that flew past Dix in the home goal.
London United then came out in the second half and put the home team under a lot of pressure. Bath struggled to maintain possession and had to thank Dix for keeping the score 3-1.
With 11 minutes to go London United brought on the fly goal keeper and began camping themselves in the Bath half.
With nine minutes to go they made it 3-2 with the fly and then two minutes later 3-3 after scoring on the break. The game became stretched as Bath tried to respond but it was London United who continued to be the more clinical as they took the lead with a great counter attacking goal and then made it 5-3 with five minutes left on the clock.
Bath then went for broke and played with a fly goal keeper. Yilmaz found Parkes who turned and shot low beating the away keeper to make it 5-4.
Bath carried on pushing the away team back using the fly but could not find a way through. London held on to win leaving Bath needing two wins from their final two games to progress.
Team: Jones (GK), Ingram (C), Kitson, Parkes, Ballinger; Dix (GK), Bell, Gardiner, Guttridge, Khurana, Yilmaz, Horlock
MOM: Ingram