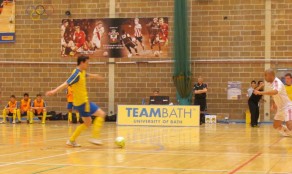 Fixture: FA National Futsal Super League (Group C)
Date: Sunday 28 April 2013
Score: Middlesbrough 8 – 4 Team Bath
Venue: Thornaby Pavilion, Middlesbrough
Knocked out of Superleague after Away Defeat to Boro
In a must win match for Team Bath, Coach Sion Kitson could not have planned for a better start as his side opened the scoring in the third minute.
A quick corner by Parkes found Kitson who rifled the ball to Bell at the back post, his shot back across goal was turned in by Parkes.
Bath found their rhythm early on and began moving the ball around the court high up the court testing the Boro keeper. Kitson from a kick in and Captain Ingram fired shots that were parried away.
Half way through the half Boro responded from a corner of their own that was swept home by Casan. A minute later in a similar fashion Parkes scored from a kick in that was disallowed for blocking.
Boro capitalised on this opportunity and as the half wore on it was the home side that were creating more chances. It was the Boro that then took a 3-1 lead as Captain Roberts converted two break away goals. Just before half time Bath fell further behind as Boro made it 4-1.
Bath dusted themselves down at half time knowing they needed to fight back early on in the second half. Within five minutes of the restart Bath did exactly that and pegged Boro back to 4-3.
First, Kitson scored with a cute finish from a kick in where Parkes and Ingram exchanged passes before the latter found Kitson at the top of box.
Then Jones went long with a throw and Parkes managed to get goal side of his defender and head home from close range to put the visitors back in the game. Bath carried on pressing and although were taking risks needed all three points.
Boro seized on the tight defending and the home side pivot turned goal wards from 10 yards and shot passed Jones to make it 5-3. Parkes was then sent off for a second yellow card and for the next two minutes Bath were down to four players.
The team held firm and did not concede and following a time out began to use the fly goal keeper knowing they needed to score three goals in nine minutes. Things got worse when a goal clearance was closed down and rebounded back into the Bath goal.
Bath responded well using the fly with Horlock converting from the side line to make it 6-4. Bath kept creating opportunities as they used the fly but did not take them. Then after Boro dropped off defensively, Bath became frustrated and gave the ball away twice in the last three minutes and went on to lose the game 8-4.
Bath ended the game knowing they could no longer make the Final Four but can hold their heads high after another successful season, winning the Midlands League and reaching another BUCS semi-final.
The team still has an average age of about 22 and with developments for an improved programme next year the club will be working hard to move another step forward.
Team: Dix (GK), Ingram (c), Parkes, Kitson, Bell, Yilmaz, Guttridge, Kurana, Horlock, Jones (GK)
MOM: Bell