Team Bath-based rhythmic gymnast and London 2012 Olympian Jade Faulkner has won the first individual contest she has competed in for three years.
The 19-year-old was a member of British group that made history last year by becoming the first GB rhythmic group to compete at an Olympics.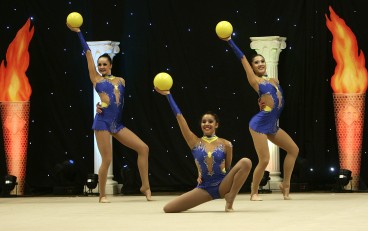 The group trained together at the University of Bath to hone their synchronised routines throughout 2011 and 2012.
The City of Bath Rhythmic Gymnastic Club member now has her sights set on a place on England's team at the Glasgow 2014 Commonwealth Games – where there are individual and team competitions but no group event.
Faulkner, who does much of her training at the University of Bath Sports Training Village, won the senior individual competition at the Attila Cup competition in Utrecht, Holland at the weekend.
"I started training with the group in 2011, so this was my first individual competition since 2010," said the Hayesfield School sixth former. "I wasn't really sure how I'd do having been out of individuals for so long.
"I'm hoping to get to the Commonwealths, but it's not going to be easy. I've still got some catching up to do, I've got another year of training and hopefully that will get me through."
Sarah Moon, who coached the GB rhythmic group to London 2012 and is head coach of the City of Bath Rhythmic Gymnastics Club, said: "Jade hasn't really competed since London 2012 and she hasn't taken part in an individual competition for three years. We wanted to get her back on the horse again, and back into the mind set for competition."
And Sarah said she's noticed a marked interest in the sport of rhythmic gymnastics since London 2012. "There have been a lot more people coming along to the club and to competitions since the Olympic Games, which raised the profile of the sport," she said.
Fellow City of Bath Rhythmic Gymnastics Club member Fleur Randall came fourth in the senior competition in Utrecht with Gemma Lewis and Kate Mosely seventh and 14th respectively in the juniors.
You can find out more about Jade, and fellow London 2012 group member Lynne Hutchison, in the latest Team Bath TV film.
You can find out more about Team Bath on our website teambath.com
You can also follow Team Bath on Twitter at twitter.com/teambath or facebook.com/teambath
For further information please contact the Team Bath press office at Matchtight Ltd on 01225 383518.
Photo: Jade is pictured (centre) at a fundraising event held at the University of Bath last year to help support the group's London 2012 prepataions. (Photo: Phil Searle, Digitalscape)