IHPC Academy
Most juniors are back and working hard on their physical preparation before the summer.
Seniors have been contesting the domestic clay court circuit in Bournemouth, Edinburgh and Newcastle respectively. Notable performances from Toby Martin and Scott Clayton who has defended his ATP point, well done Scott.
We welcome new comer Anna Smith who has made semis and finals of the women's equivalent circuit. Anna has just joined us but it did not stop James Andell claiming this success as her new coach… well done James!
Sam Murray and Lisa Whybourne edge closer to a Wimbledon wild card spot with some good form in South Africa and Thailand.
University tennis
A huge congratulations to the girls 1st that won the team of the year award at the recent University of Bath blues evening.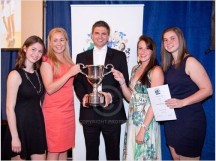 This is a great achievement considering the level of opposition they face from other excellent sports teams around the University and what they achieved and the manner they achieved defending the national BUCS title.
Congratulations to the girls 2nds they have also qualified for the premiership, fantastic to have two teams in the premiership…. Sounds like the boys have some work to do!
Club tennis
A successful start to our AEGON Team Tennis matches with many great matches in our 8U, 9U, 10U and 14U teams, many of them being wins for the centre, both home and away.
Now well into our summer term, we are setting up our Team Bath 'Tennis Roadshow' where we visit local primary schools through June to give them a tennis taster session, and invite them back to the centre if they enjoy the sport.
Summer Camp costs dates are being finalised and will be up online at our tennis courses & classes web page by the end of the month.
Our Mini World Tour event French Open is running on Saturday 25 May
A fun day of competition starting from 12 noon for all club mini players.
You can now sign up for £8 at reception. Fancy dress is red, white and blue (or anything French) and we are raising money for Dementia UK for our coach Jon Bastin, whose father sadly passed away recently with the condition.
Please contribute to the great cause if you can, either in the office or on the tennis balcony.