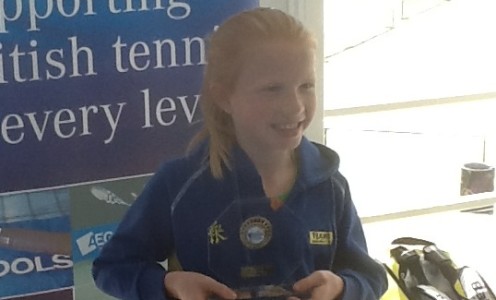 Talented young tennis player Amelia Bissett has won the Under-10 National Clay Court title.
Amelia played some excellent tennis at the green ball competition, winning all of her matches on the clay courts at Queenswood in London.
She beat two girls she had previously lost to at Easter tournaments, taking the final convincingly 4-1, 4-2.
Amelia has shown excellent progression after winning the under-nine Masters on orange ball at Roehampton in March to now winning another national title on green ball.
Amelia is from Devizes in Wiltshire. She attends Monkton Combe School, and is coached at the Team Bath MCTA Tennis Academy by Eve Hughes and Craig Proctor.
You can find out more about Team Bath on our website teambath.com
You can also follow Team Bath on Twitter at twitter.com/teambath or facebook.com/teambath
For further information please contact the Team Bath press office at Matchtight Ltd on 01225 383518.