International High Performance Centre
It is a busy but hard month for most juniors undergoing exams whilst maintaining a good level of training ready for the summer tournaments.
For the seniors the grass is well underway and gives them a great chance to prove themselves vs top international players in the lead up to Wimbledon.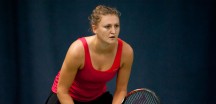 We have also been waiting for the news re wildcards for Wimbledon and it gives me great pleasure to announce the following:
Samantha Murray has a wildcard main draw singles and doubles. This is our first player to play a senior grand slam from the programme so this is fantastic news!!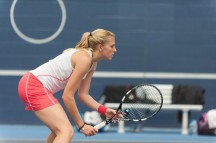 Lisa Whybourn has a wildcard singles qualifying and main draw doubles
Mel South has a wildcard doubles.
I would like to congratulate all the girls on this achievement not only for themselves but what the means to the tennis programme here in Bath – well done again.
At the time of writing we are still waiting confirmation for players competing in the junior event at Wimbledon. If we have some presence it will mean the fifth year in a row we have been represented at the junior championships at Wimbledon.
University
The vast amount of students have been finishing off exams and we hope they have all gone well…. we look forward to seeing them all back end of September with some new recruits for the tennis programme in playing and coaching capacities.
Club
The club programme has been very busy with National mini tennis week 10-16 June. With our team being out in primary schools as part of out 'Team Bath Tennis Roadshow', already seeing four schools.
We also hosted an AEGON Schools Games which the LTA described as 'a great success' and have used as a case study (video produced by LTA):
http://youtu.be/JKXrfiCV-Yw
You can now all book onto our summer camps! See our Courses & Classes web page.
And our Autumn term (Sept) is to be released soon for people to enrol early.
We have a drop-in parents meeting on Monday 17 June 7.00pm at the Sports Training Village Lecture room 1 (around the corner from the tennis balcony) updating you all that's happening in the programme and the new term coming up.
Everyone welcome.
Our internal mini tour for all 10&u players in our programme is proving to be the backbone of our our club – with our next event coming up…
Wimbledon on the 29 June – where all the children will be dressing up in their whites and competing.
You can book your place now at reception.
Exciting times – as Wimbledon frenzy hits the nation later this month.