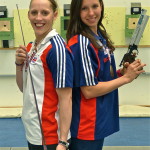 London 2012 Olympic silver medallist Samantha Murray graduates from the University of Bath on Thursday 4 July – but she plans to be a familiar face around campus for some time to come.
Samanatha receives her BA (Hons) in French and Politics at a ceremony in the majestic surroundings of Bath Abbey.
But she won't be moving too far away from Bath just yet – the University's Sports Training Village is home to Pentathlon GB's High Performance Centre, where the current world number nine plans to train for the foreseeable future.
Her next competition is the European Championships in Poland later in July.
Samantha combined studying for her degree with training in the five individual disciplines that make up the sport of modern pentathlon – fencing, swimming, show jumping, running and shooting.
She won Team GB's 65th and last medal of the London 2012 Olympic Games, crossing the finishing line at Greenwich Park to take silver on 12 August 2012, just hours before the Closing Ceremony to the Games.
Samantha thanked the University's Department of Politics, Languages and International studies for the support they have shown during her time as a Bath student.
She said: "Graduating is a milestone that students work towards over a number of years; I feel so proud and thankful that I have made it to this point!
"Most students have one focus which is their degree – my experience has been a little more challenging as I have balanced my studies with my medal achievement at London 2012," she added.
"It has been very tough trying to keep my brain functioning after a day's tough training or when abroad focused on high level international competitions, then, back at a hotel room far from home, finding the time and dedication to study.
"My department at the University of Bath has been extremely understanding, helpful and considerate when helping me achieve this balance," she said. "Howard White, my personal tutor and Director of Studies, has supported my career as an athlete through his flexible approach, his ever-patient tutelage and his belief in my academic ability.
"My ambition for many years has been to become an Olympian and to study in the beautiful city of Bath – to achieve my Olympic silver medal and my French and Politics degree has been possible thanks to Howard and his team in the department."
Samantha is now looking forward to the future; her life after her sporting career:
"The skills I have learnt and developed during my time as an undergraduate will unquestionably guide me through new challenges and my future ambitions," she said.
Samantha, who received a Santander Sports Scholarship in her fourth and final year of study at the University, was one of 25 athletes training at the University who competed at the London 2012 Olympic Games, with a further six at the Paralympics.
She faced a tough battle to get to the Games – with five British women achieving the Olympic qualifying standard but only two able to compete at the Games.
She knew she needed to win an individual medal at last year's World Championships, in Rome in May, to make sure of a place on the GB team and delivered with a bronze medal on a day that University of Bath alumni and team-mate Mhairi Spence became world champion.
Samantha's London 2012 success made the fifth Bath-based modern pentathlete to win an Olympic medal since the women's sport made its Olympic debut at Sydney 2000, following Steph Cook's gold and Kate Allenby's bronze in 2000, Georgina Harland's bronze in Athens in 2004 and Heather Fell's Beijing silver in 2008.
She also followed in the footsteps of another University of Bath French and Politics graduate – middle distance runner Marilyn Okoro – who graduated in 2007 and was a member of the GB Olympic teams in Beijing and London.
England rugby captain Steve Borthwick (Economic & Politics 2003), skeleton Olympic Winter Games gold medallist Amy Williams (Sports Performance, 2007) and double Paralympic Games medallist Ben Rushgrove (Sports Performance, 2009) are also among the University's many high achieving sporting alumni.
You can find out more about Team Bath on our website teambath.com
You can also follow Team Bath on Twitter at twitter.com/teambath or facebook.com/teambath
For further information please contact the Team Bath press office at Matchtight Ltd on 01225 383518.