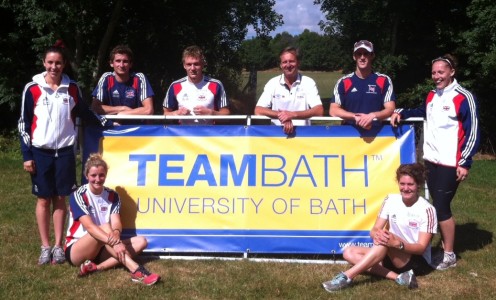 The University of Bath and Pentathlon GB are joining forces in a unique partnership in British sport.
Pentathlon GB has based its High Performance Centre at Bath since 1999 with Olympic medal-winning athletes such as Samantha Murray (silver medallist in the London 2012 Games) combining their University studies with training and competing.
This relationship is set to be strengthened further with some of Britain's top modern pentathletes helping promote the University to potential future students.
The new agreement will see pentathletes involved with promoting the University at its Open Days and when they are competing internationally.
The University's distinctive logo will be featured on their training and competition kit, and prominently placed within the annual schedule of biathlons, triathlons, biathles and pentathlons run for schools and clubs by Pentathlon GB – to encourage participation in the sport.
Tim Kaner, Director of Marketing and Communications at the University of Bath said: "We are delighted to be able to form an even closer partnership with Modern Pentathlon. To succeed in such a demanding sport requires levels of all-round talent and dedication which match well with the qualities we encourage in all of our students at Bath.
"We are sure that our outstanding facilities on campus will continue to support the achievements of the national squad and enable the next generation of pentathletes to match the success of their predecessors."
The University of Bath and Pentathlon GB have a long-standing and highly successful relationship. Pentathlon GB set up its first High Performance Centre at the University in 1999 and moved to current state-of-the-art facility at the University's Sports Training Village (STV) in 2004.
Since then British pentathletes have won a steady stream of medals on the world's biggest sporting stages, including five Olympic medals and two individual World Championship gold medals.
The High Performance Centre at the University of Bath enables Britain's top pentathletes to train in swimming, running, shooting and fencing at one compact training venue featuring some of the country's top facilities. The STV also has a performance gym and hosts one of the English Institute Sport's world-class support centres, providing physiotherapy, massage, strength and conditioning and nutritional expertise.
Stephen Baddeley, Director of Sport at the University of Bath, said: "We've had a long-standing and very productive partnership with Pentathlon GB based on the performance environment and the outstanding academic reputation that the University offers.
"It's a winning combination and the British modern pentathlon team have proved time and again that they're a winning team."
Jon Austin, Pentathlon GB Chief Executive, said: "We're delighted to build on our existing relationship with the University of Bath. Both parties have benefitted from our past successes and this latest agreement further cements that partnership."
Many of the country's top pentathletes have also combined training with studying for a degree at the University of Bath. All four women selected to represent Great Britain at the forthcoming World Championships in Chinese Taipei are University of Bath graduates.
Samantha Murray, London 2012 Olympic silver medalist and current world number three, graduated this July with a BA (Hons) in French and Politics at the University, while reigning world champion Mhairi Spence has a BSc (Hons) in Coach Education and Sports Development degree.
Freyja Prentice has just graduated with a first class BSc (Hons) degree in Biology and Kate French has recently gained a BSc (Hons) in Sport (Sports Performance)
You can find out more about Team Bath on our website teambath.com
You can also follow Team Bath on Twitter at twitter.com/teambath or facebook.com/teambath
For further information please contact the Team Bath press office at Matchtight Ltd on 01225 383518.