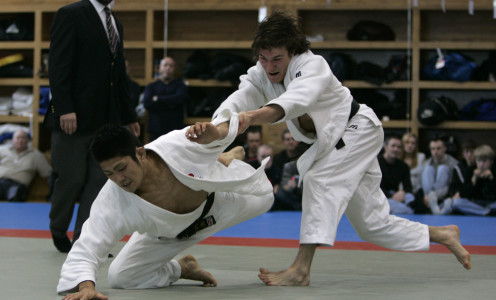 University of Bath student and judo player Jan Gosiewski has been selected to compete at his first World Championships.
Gosiewski is a member of the nine-strong British team for the championships, which take place at Rio de Janeiro in Brazil from 26 August to 1 September.
He will be joined at the championships by another Team Bath player, Emmanuel Nartey, who represents Ghana at his sixth World Championships. The pair will both contest the under-73kg class.
Gosiewski is currently completing an MSc in Design Engineering at the University of Bath after already graduating with a Mechanical Engineering degree. He will begin work on a PhD in Biomechanics at the University in October.
He earned his place at the World Championships with an impressive year that saw him win World Cup bronze in Warsaw, Poland in March, come fifth in the Bucharest World Cup in Romania at the start of June and then take silver at the Tallinn World Cup in Estonia a week later.
Gosiewski, who is supported with a Santander Sports Scholarship at the University, said: "With my consistency this year, I feel I have truly deserved my spot on the British team.
"I am thrilled to be competing at the world championships," he added. "This is the right step for me towards Rio 2016.  Despite this being my first World Championships, I am going there to fight for the medals."
Nartey is also looking forward to the challenge following bronze in the Buenos Aries Pan-American Open in March – when he beat the Olympic champion – and an African Championships bronze in Mozambique in April
"I think I'm in good shape now, after a six months break post the Olympic Games," he said.
"I've had some great performances on the circuit since coming back after the Games," he added. "The condition phase of my preparation in Bath has been great so far and I feel stronger. I can't wait to test myself in Brazil before the worlds."
Gosiewski joins Bath alumnus Gemma Gibbons in the British team. The Sports Performance graduate won silver at the London 2012 Olympic Games.
You can find out more about Team Bath on our website teambath.com
You can also follow Team Bath on Twitter at twitter.com/teambath or facebook.com/teambath
For further information please contact the Team Bath press office at Matchtight Ltd on 01225 383518.