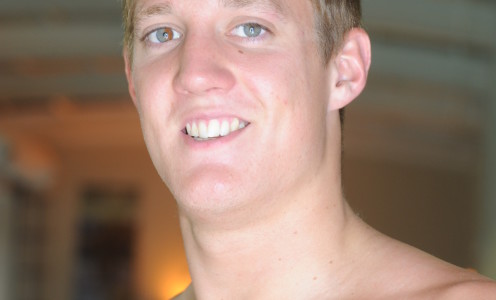 University of Bath based swimmers Andrew Willis and Michael Jamieson were just edged out of the medals at the Swimming World Championships in Barcelona.
The pair, who train at the British Gas Bath Intensive Training Centre came home in fourth and fifth place in the final of the 200m breaststroke on Friday (2 August) night.
Willis, who is studying for a Chemical Engineering degree at the University, clocked a time of 2:09.13 to achieve his best finish on the world stage, with Sports Performance graduate and Olympic silver medallist Jamieson touching in 2:09.14.
Willis said he was disappointed to just miss out on a podium place. "There are no real excuses," he said. "That should have been quicker. I've changed my mindset this year to try and get medals.
"Yes, I was eighth last time and eighth at the Olympics as well and I'm fourth this time but I wanted to medal and I've just missed out so I'm a bit gutted really."
Jamieson's season has been interrupted by a torn bicep injury and while he managed to qualify with gold at June's British Championships, he was adamant he didn't have the fitness to reach the podium in Spain.
"I couldn't have done much more there," said Jamieson. "I've had a nightmare last couple of months. I swam a 2:07 a month ago and I said then it was a real surprise because that wasn't me back to my best.
"But I think that was me right at the end of my real fitness levels where I could tolerate the injury and it hadn't had as much of an effect then.
"You've got to deal with injuries on the way and unfortunately this has just come at the wrong time."
Jamieson was ranked 15th overall in the 100m breaststroke semis.
Earlier in the championships fellow Bath ITC swimmers Sophie Allen and Siobhan-Marie O'Connor came seventh and eighth in the 200m individual medley in their first world long course finals. Allen also helped the GB team to sixth in the 4x100m medley relay final.
Chris Walker-Hebborn came 12th overall in 100m backstroke semi-finals and 13th over 200m. He swam in the heats of the men's 4x100m medley relay, but the team missed out on a place in the final.
Sports Performance student Omiros Zagkas was ranked 52nd overall in the 50m breaststroke swimming for Cyprus.