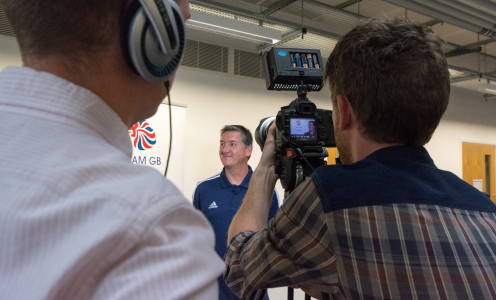 With just six months to go before the XXII Olympic Winter Games in Sochi, Russia, more than 50 Team GB hopefuls gathered at the University of Bath this past weekend for the Team GB Media Summit and Sochi 2014 Conference.
Friday's Summit, a gathering of more than 50 athletes from 10 sports and disciplines, with their associated Team Leaders and support staff, and 80 members of the nation's media, was the first of its kind hosted by Team GB.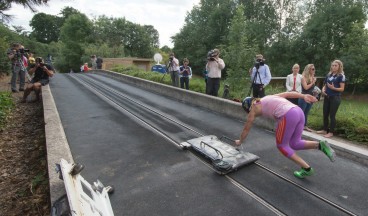 The Sochi 2014 Conference, held last Saturday and Sunday, gave the 120 attendees the chance to find out more about the Olympic Winter Games environment, learn about Sochi's facilities and about Team GB's preparations for the Games.
Approximately 400 media opportunities were conducted on Friday, with broadcasters, written press and photographers all present to gather content and get to know the athletes that will form Team GB.
The day also included demonstrations by both the bobsleigh and skeleton teams on the University of Bath's push-start track, and a roller-ski demonstration by cross country skiers hoping to secure their ticket to Sochi.
Athletes attending the event included World Championship medallists Shelley Rudman (bob skeleton), Eve Muirhead (curling), Dave Murdoch (curling) and Elise Christie (short track speed skating), Vancouver 2010 Olympians Lee Jackson (biathlon), Kristan Bromley (bob skele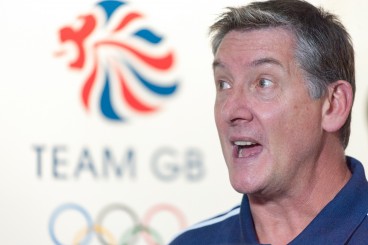 ton), Jon Eley (short track speed skating) and Innsbruck 2012 Youth Olympian Katie Summerhayes (freestyle skiing).
Joining the athletes throughout the weekend were Team GB Sochi 2014 Ambassadors Amy Williams and Robin Cousins, the United Kingdom's last two individual Winter Olympic gold medallists.
Included in the Conference agenda were talks from UK Anti-Doping, Team GB's medical staff, breakout groups to discuss 'One Team GB' values and an inspirational keynote speech from Cousins.
Many athletes' highlight of the weekend though came with Saturday evening's team building activity, a snowball fight between mountain and coastal cluster athletes.
In the middle of August, on a lush green field in Bath, wearing shorts, the cream of Britain's winter sports athletes went into battle, but all in the name of fun.
Chef de Mission Mike Hay highlighted the value of the weekend, with all sports and disciplines gathering together as one in advance of the Games.
"The past weekend was a successful one for Team GB in our preparation for what will hopefully be a successful Sochi Games next year," said Hay.
"We have had lots of positive feedback from athletes, team leaders and support staff alike, it was an important step in laying the foundation of our One Team GB for Sochi.
"It was great to see athletes from different sports getting together and building a strong team ethos already, and also those that competed in the previous Games in Vancouver meeting up again to rekindle friendships formed in Canada.
"In Robin Cousins and Amy Williams, our Team GB 2014 Ambassadors, we have a wealth of Olympic experience and seeing them interact and share their knowledge with our Sochi hopefuls this weekend shows what a key role they will play as we get closer to the Games."
Figure skating Team Leader Anne Veck was only recently selected for the post and hopes to share her knowledge of Russian culture with her colleagues.
"I have found the whole weekend really useful. It has been informative, inspirational and has made everything so very real, we have a lot of work to do before February but it has been a great experience," she said.
"Weekends like this are an excellent idea; as a sport we are isolated, we are in our own bubble and what has been very apparent over these past few days is that as sport team leaders we have very similar issues.
"I deal with Russian coaches on a day to day basis and a lot of our skaters have Russian coaches so we have a lot of insight into the Russian culture. I hope to be able to share that with my fellow team leaders."
Nigel Laughton, Team Leader for skeleton, felt the weekend was a valuable experience for members of his squad.
"The Sochi 2014 Olympic Winter Games could be the first multi-sport event some of our athletes experience," Laughton said.
"This past weekend's Conference has therefore been a fantastic opportunity for them to meet their potential teammates from other sports and it was also a chance for others to catch up with friends from Vancouver 2010 and Turin 2006.
"It gave us all the chance to meet the Team GB HQ team who will be on the ground in Sochi supporting us and to get an update on the preparations and plans in place.
"I believe all athletes who attended will have left with renewed motivation to hit qualification targets and secure selection for Sochi."
Halfpipe skier James Machon took inspiration from the esteemed list of delegates at the event and is focussed on securing his spot on Team GB.
He said: "This weekend has been fantastic in terms of getting me excited and more motivated than ever before to qualify for the ski halfpipe in Sochi 2014.
"To be surrounded by so many Olympians and future Olympians was inspiring and a great opportunity to learn and prepare before next year."
Snowboard cross athlete Zoe Gillings is preparing for her third Olympic Games and enjoyed the camaraderie of the weekend.
"Quite often throughout the season I am on my own as there are not many other British athletes competing in my event," said the 28-year-old.
"I don't often get the 'team' feeling so this weekend has been great to feel a part of Team GB again and to catch up with people I haven't seen for four years.
"Wearing the same Team GB kit as everyone else this weekend has brought it home – Sochi really isn't that far away now.
"It was really interesting learning about the Russian culture, things that they may do differently as it will be really useful in Sochi and it wasn't something I thought I would take away from this weekend."
You can see a gallery of our pictures from the media day on the Team Bath Facebook page and watch a movie of the day on Team Bath TV.