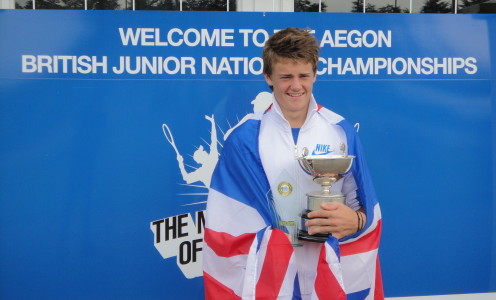 It was another highly successful year for Team Bath MCTA Tennis Academy players at the British Junior National Tennis Championships, held at Nottingham Tennis Centre, with two winners and a finalist.
Samm Butler became the new under-18 boys' singles champion, while Youssef Hassan won the under-18 boys' doubles title with partner Lewis Roskilly. Dan Little was runner-up in the under-16 boys' singles.
Butler's victory in the under-18 boys' singles means the trophy will be returning to Bath for the fourth time in as many years following the successes of Scott Clayton, Toby Martin and Richard Gabb – all of whom are now playing professionally with the Team Bath MCTA senior squad.
Butler, seeded two, secured a straightforward final victory over Ryan Peniston ,the top seed for the event, 6-2 6-3.
The new boys' under-18 champion, who has trained at Team Bath for six years and attends Ralph Allen School,  played at this year's Junior Wimbledon. He did not drop a set all week at Nottingham and thoroughly deserved the title.
Youssef Hassan made it a boys' under-18 double for Team Bath with victory in the doubles event partnering Lewis Roskilly.
Dan Little, who was under-14 singles champion two years ago, just missed out on the boys' under-16 crown, going down to Enrique Vidal after losing a very close first set tie-breaker.
Chloe Moxham also performed well to reach the girls' quarter finals at the under-18, with new recruit Grace Dixon making the semi-finals. Seb Butler, Freddie McGeehan and Will Bissett all reached the second round of the under-16 boys' singles, with Eden Richardson reaching the second round of the girls' under-14s.
Results
Final Samm Butler beat Ryan Peniston 6-2 6-3
SF Samm Butler beat Andrew Watson 6-4 7-5.
QF Samm Butler beat Sam Price 6-3 6-2
R2 Samm Butler beat Liam Earnshaw 6-4 6-0.
R1 bye
Dan Little lost to Enrique Vidal 6-7(4) 1-6
Dan Little beat Jack McFarlane 6-1 6-2
Dan Little beat Alexis canter 6-4 6-2
Dan Little beat Vincent Gillespie 6-4 0-6 6-1
Freddie McGeehan lost to eventual winner Enrique Vidal 6-7 2-6.
Will Bissett lost to Piers Foley 2-6 6-3 2-6
Seb Butler lost 2-6 3-6 to Jay Clarke
u18
Chloe lost to 62 26 63 Farah Abdel-Aziz
Chloe Moxham beat Molly Reid 6-4 6-3.
Chloe Moxham had an excellent win over Georgie Sanders 7-6 7-6
Youssef Hassan lost to Adam Stephenson 4-6 6-3 6-7.
Youssef beat Curtis Clarke 7-5 6-1
Cameron Hogg lost 3-6 2-6 to Chris Egan Morriss
u14
Eden Richardson beat Darinka Tibaldi 6-3 6-1
Eden Richardson lost to Ema Lazic 6-4 3-6 1-6.
You can find out more about Team Bath on our website teambath.com
You can also follow Team Bath on Twitter at twitter.com/teambath or facebook.com/teambath
For further information please contact the Team Bath press office at Matchtight Ltd on 01225 383518.