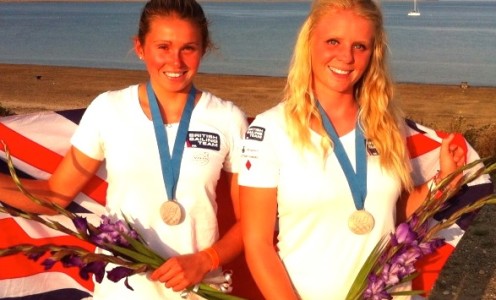 University of Bath student and sports scholar Katie Tomsett is celebrating winning a silver medal at sailing's 470 European Junior Championships.
Tomsett and her sailing partner Joanna Freeman came second behind the Ukrainian crew of Anna Kyselova and Anastasiya Krasko at the championships in Pwllhei in Wales.
"We're absolutely delighted with the silver medal, our aim was to improve on the bronze medal we achieved last year," said 20-year-old Tomsett, who has just completed her first year of a Sport and Social Science degree at the University of Bath.
The European Junior Championships result capped the best season yet for the young British crew, who are on the British Sailing Team's Podium Potential programme. It followed a fifth place at the World Junior Championships, 15th at the senior Europeans and 30th at the senior worlds.
Tomsett attributes part of her success to the support she has received at the University, both through the flexibility and support of academic staff and the work of Team Bath's strength & conditioning and physiotherapy staff.
"The support I've received from the University has been absolutely outstanding," she said. "The team there are world class and so dedicated.
"I wouldn't have achieved what I've achieved this year without the support I've had from the academic side of the University and from Team Bath."
Tomsett said strength and conditioning coach Peter Gascoigne and physiotherapist Katy Williams have provided invaluable support to her this year, complementing the support she gets through the British Sailing Team at Weymouth.
She is now planning to split the second year of her degree over the next two academic years to help her double the time she can devote to training, with a view to competing at a future Olympics.
She knows the competition to get there will be tough – Britain has a wealth of 470 talent, including the pairing of Sophie Weguelin and Eilidh McIntyre, currently ranked third in the world.
"We have been putting in the foundations this year to prepare us to take up any arising opportunities as a training partner for the 2016 Olympic Games," she added. "This would be an essential learning experience to compete at the next level. "
Tomsett receives support from a Santander Sports Scholarship, helping her balance her academic and sporting commitments.
She also thanked UK Sport and National Lottery funding, and the RYA, the national governing body for sailing, for their support.
You can find out more about Team Bath on our website teambath.com
You can also follow Team Bath on Twitter at twitter.com/teambath or facebook.com/teambath
For further information please contact the Team Bath press office at Matchtight Ltd on 01225 383518.