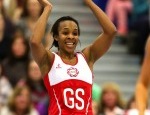 Team Bath player and University of Bath Business Administration graduate Pamela Cookey will proudly lead England out to face South Africa in Sunday's (22 September) sellout game at the Sports Training Village.
Pamela has trained at the University since her mid teens and she now combines training with working at Airbus in Filton.
To find out more about how she balances the rigours of being an England captain and having a high-powered job in industry, catch the BBC's excellent Get Inspired feature.
If you're coming to the game on Sunday, catch our Team Bath preview feature, which includes advice on parking at the University campus on Sunday.