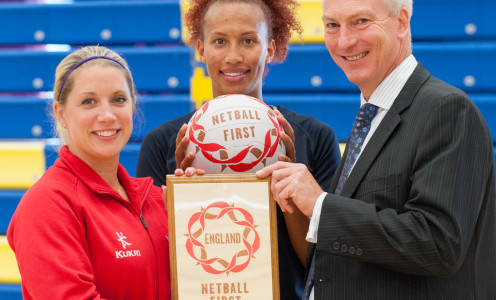 The University of Bath has been presented with a plaque by England Netball to mark its official launch as England's first Intensive Netball Training Centres (INTCs).
The network of three INTCs are at the heart of England Netball's strategy to improve the standard of England's best netballers to help England become world netball champions by 2019.
Stephen Baddeley, Director of Sport at the University of Bath, received the plaque at the official launch of the Bath INTC from Anna Mayes, England Netball's Head Coach, at a ceremony at the Sports Training Village.
England's netballers have been training at the University in the build-up to the three-game Fiat International Netball Series against South Africa. England ran out 49-38 winners in the opening contest at the University of Bath on Sunday (22 September).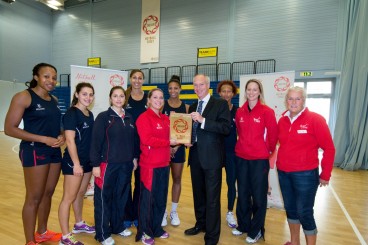 Stephen Baddeley said: "We're proud and delighted to host one of England Netball's Intensive Netball Training Centres. It further consolidates what is a strong and successful partnership between the University of Bath and England Netball.
"Over many years, through working in partnership with England Netball, we have an unrivalled track record of developing talented netball players on our campus and we look forward to continue to work closely with England Netball to help England become the world's number one team."
Paul Clark, England Netball's Chief Executive, said he was pleased to see the creation of three INTCs.
"England Netball are delighted to partner with the University of Bath, Brunel University and Manchester City Council as we move ahead with our Netball First approach to elite level performance," he said. "We believe that the fantastic relationships we will continue to build with these venues to host our Intensive Netball Training Centre's will see England achieve our ambition of becoming world champions in 2019."
Each INTC is designed to provide the highest quality training environment for England's top players.  As well as receiving regular coached training and supervised strength and conditioning, they will also have access to on-site physiotherapy, medical and performance lifestyle services.
England have been successful in closing the gap on the world's top two ranked netballing nations, but have not yet made the breakthrough that would enable them to mount a realistic challenge on the World Netball Championships.
The INTCs will help them achieve that by ensuring England's top players are sufficiently challenged on a day-to-day basis to develop to the very best of their potential.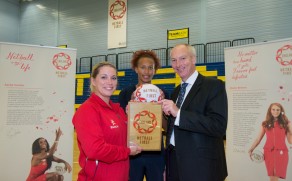 The ITNCs are funded through Sport England's Whole Sport Plan funding, by INTC hosts and through local partnerships.
The top England players have been training at the three INTCs since 8 July and the centres become fully operational from 30 September, with 45 athletes from around England participating in the programme.
The other INTCs are at Brunel University and in Manchester.
The University of Bath has played an important role in the development of talented young netballers in partnership with England Netball.
Five members of Team Bath's 2013 winning Superleague squad feature in the England squad for the current series against South Africa, along with five former Team Bath players.
You can also follow Team Bath on Twitter at twitter.com/teambath or facebook.com/teambath
For further information please contact the Team Bath press office at Matchtight Ltd on 01225 383518.