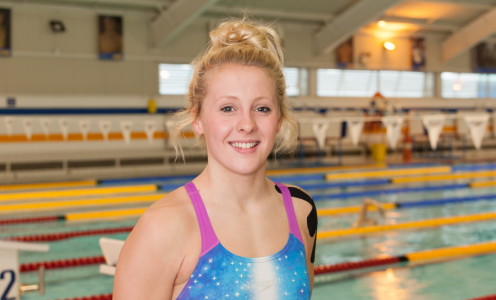 University of Bath-based swimmers will make up half of the British team competing at the European Short Course Championships in Denmark in December.
Six swimmers who train at British Swimming's Bath Intensive Training Centre (ITC) feature in the 12-strong team to compete at Herning on 12 to 15 December.
Andrew Willis, a University of Bath Chemical Engineering student, is joined by fellow Bath ITC swimmer Michael Jamieson, a University of Bath Sports Performance graduate, as well Sophie Allen, Jemma Lowe, Siobhan-Marie O'Connor (pictured) and Chris Walker-Hebborn.
"This is a team which is focused on athletes that we feel can deliver medals either today or in the near future," said British Swimming head coach Bill Furniss.
"It continues the strategy we have adopted of smaller, more focused teams and this will continue to be a key philosophy going forward."
You can find out more about Team Bath on our website teambath.com
You can also follow Team Bath on Twitter at twitter.com/teambath or facebook.com/teambath
For further information please contact the Team Bath press office at Matchtight Ltd on 01225 383518 or press@matchtight.co.uk