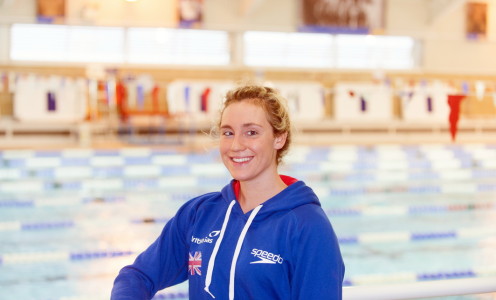 University of Bath-based Lizzie Simmonds broke her English short course 50m Backstroke record as four Brits claimed medals on day one of the Singapore leg of the 2013 FINA World Cup series.
The British Gas ITC Bath swimmer clocked 26.85 to slice 0.03 off her previous best from the 2008 European Short Course Championships and claim silver behind Australia's Emily Seebohm (26.70).
Simmonds scooped a second silver in the 200m Backstroke, clocking 2:03.30 to finish behind Ukraine's Daryna Zevina (2:02.32).
Simmonds' training partners Sophie Allen and Michael Jamieson continued their good form on this year's World Cup, landing bronze medals in the 100m Breaststroke and 200m Breaststroke respectively.
Allen set 1:06.73 for her medal with Hannah Miley (1:09.20) sixth in the same final while Jamieson touched in 2:05.52 for his bronze.
Francesca Halsall was the fourth British medallist, clocking 24.37 for bronze in the 50m Freestyle.
There were also fourth places for Allen (200m Individual Medley), Miley (800m Freestyle) and James Guy (400m Freestyle) and British Gas ITC head coach Dave McNulty admitted it had been a successful start to a two week spell which will also see the swimmers compete in Tokyo (9 – 10 November) and Beijing (13 – 14 November).
"Tonight we had four medallists out of a team of seven which is a great overall performance," said McNulty.
"The point of doing three meets back to back like this is to look at how you can make technical and tactical changes between them so we'll look at what we can do from here but everyone is really happy today."
SOURCE: Gemma Field/British Swimming press office