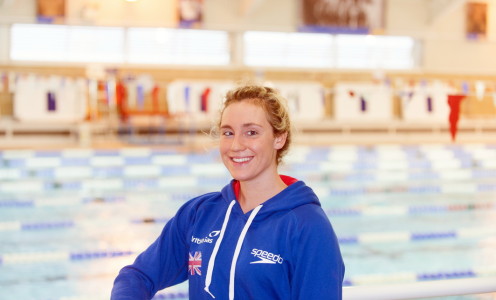 University of Bath-based swimmer Lizzie Simmonds landed three medals and an English record at the penultimate leg of the 2013 FINA World Cup in Tokyo.
Simmonds, who is based at British Swimming's Bath Intensive Training Centre, broke her own English short course record to take silver in the 50m backstroke.
She followed that up with another silver in the 200m backstroke and then 100m backstroke bronze.
Her medals came just three days after a haul of another two silvers and a bronze at the previous World Cup round in Singapore.
Training partner Michael Jamieson, a University of Bath Sports Performance graduate, continued his tremendous track record on the World Cup circuit this year. He had won medals at each of the six World Cup rounds this year and continued that run with 200m breaststroke bronze in Tokyo.
And fellow Bath ITC swimmer Sophie Allen reached the podium for the fifth consecutive World Cup leg with 200m individual medley bronze with the second fastest time of her career. Siobhan-Marie O'Connor was seventh. Sophie also lowered her 200m breaststroke English record to finish fourth.
The swimmers now move on to Beijing for the last round of the World Cup, which gets underway on Wednesday (13 November).
You can find out more about Team Bath on our website teambath.com
You can also follow Team Bath on Twitter at twitter.com/teambath or facebook.com/teambath
For further information please contact the Team Bath press office at Matchtight Ltd on 01225 383518 or press@matchtight.co.uk